Published 28-11-2019
| Article appears in February 2020 Issue
MOBILE ROBOT FAMILY GAINS BIG DADDY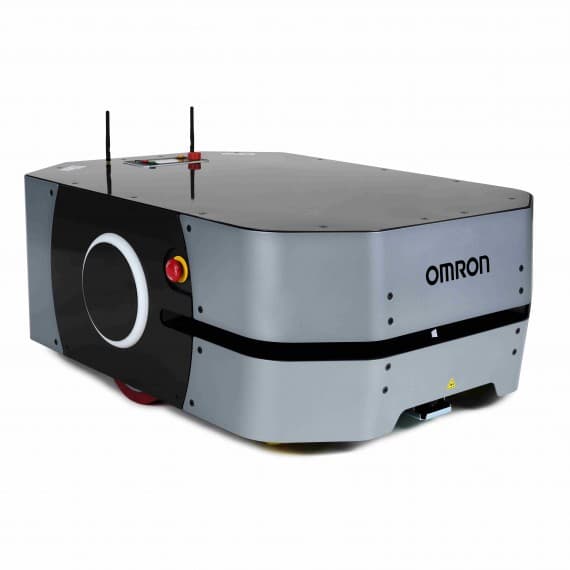 The latest addition to Omron's LD autonomous mobile robot (AMR) range is the strongest yet. The LD-250 has a payload capacity of 250kg, a maximum speed of 1.2m/s and can run for 13 hours before it needs recharging.
The LD-250 is based on the same tested-and-proven technology used in the industry-leading LD-90, with a higher payload capacity and tougher metal skins.
Working seamlessly into an integrated Omron mobile fleet, the LD-250 can allow customers to optimise their traffic management, battery management, and routing of vehicles with a more diverse fleet.
Unlike AGVs, Omron AMRs can safely navigate without the use of floor magnets or wall-mounted beacons.
An AMR will first create a baseline map of a facility using built-in sensors, then will constantly detect its surroundings. When processes change, AMRs can easily change as well, creating networks of new routes or being reassigned to new tasks.
AGVs require a predefined path to follow, either a network of magnetic lines on the floor or beacons on the walls.
So although AGVs allow modifications to production lines, facilities will need to install new equipment every time the AGV path is changed, leading to downtime and extra costs.
And AGVs will stop at obstacles indefinitely, AMRs avoid stationary or moving obstacles and automatically reroute themselves when necessary. AMR paths automatically change without human intervention, making operations more flexible and decreasing total cost of ownership.
Safety is a key focus with the LD-250. The robot complies with ISO EN1525, JIS D6802 and ANSI B56.5 safety standards and works safely around people.
Omron Industrial Automation
1300 766 766
www.omron.com.au