Mobile mapper wins top science and technology awards
31-08-2010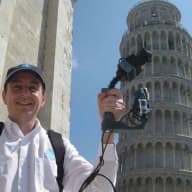 CSIRO, the developers of ZEB1, the world's first, truly mobile, handheld, rapid laser mapping system have been awarded the Eureka Prize for the Innovative use of Technology as well as the iAwards prize for Research and Development.
The Eureka Prize, often referred to as the "Oscars of Science" is given to the top scientists in Australia each year.
The Australian Museum Eureka Prizes, including the ANSTO (Australian Nuclear Science and Technology Organisation) sponsored award, celebrate the best in Australian science, innovation, leadership, research and journalism.
The iAwards is Australia's premier technology awards program, focused on recognising the contributions made by the ICT industry to both the national and global economies. Winners of 2013 iAwards now have the opportunity to compete with businesses from across the region at the 2013 Asia Pacific ICT Alliance (APICTA) Awards.
"Mobile mapping is a technology in great demand, but difficult to perform indoors," said Frank Howarth the Director of the Australian Museum. "The team behind ZEB1 unique solution is to take those challenges and turn them into opportunities. Their quick and easy scanning solution is a revolution for bio-physical measurement of cultural heritage sites and tracking of environmental changes – no other technology comes close."
iAwards Chair Russell Yardley said: "It is rewarding to see the far reaching impact which the use of innovative technology has on our economy. ICT (such as ZEB1) can lead to improvements in productivity and can also have a tangible impact on society in areas such as education, mining and the environment."
ZEB1 uses robotic technology called Simultaneous Localisation and Mapping (SLAM). The ZEB1 system includes a lightweight laser scanner mounted on a simple spring mechanism, which continuously scans as the operator walks through the environment. As the scanner loosely oscillates about a spring it produces a rotation that converts 2D laser measurements into 3D fields of view. Its ability to self-localise makes ZEB1 ideally suited for use indoors, underground and in other covered environments where traditional solutions that utilise GPS don't function well.
"This is a huge achievement for ZEB1 and the development team," said Dr Graham Hunter, founder and Executive Chairman of 3D Laser Mapping the company who have commercialised the technology and launched it to market.
"It clearly demonstrates just how advanced the system is and recognises the impact it is already having on the mapping and surveying industries," Dr Hunter said.