A mobile bunding solution in seconds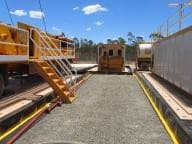 Constructed from X-R5, a highly chemical resistant material, the Quickbund portable bunding system has a wide variety of applications from mining exploration to mobile generators and bulk liquid transfer. 
A fold down wall makes access for trucks, forklifts and pallet jacks easy.  
Unlike PVC, the X-R5 will not become brittle and crack when exposed to oils and fuels.
A standard 1000L model folds down to a compact 500x500x100mm size and weighs only 10kg. 
All of the 10 standard sizes in the range (1,000L to 24,700L) have high-frequency welded seams to prevent leaking and delamination.  
The Australian made Quickbund can also be custom made to any required size.
As well as being conveniently portable, the Quickbund can be deployed and fully functional in just seconds. You simply place it on the ground and unfold to create a secure bunded area.
Anti-vibration nitrile pads and puncture resistant underblankets extend the applications and durability of the Quickbund.
The Quickbund has been used by Australian Defence Forces for over 15 years and will perform in a wide range of demanding environments.
Spill Station
Ph 1300 66 42 66