Mixquip IBC Mixers with Powder/Liquid Additions Port
01-10-2020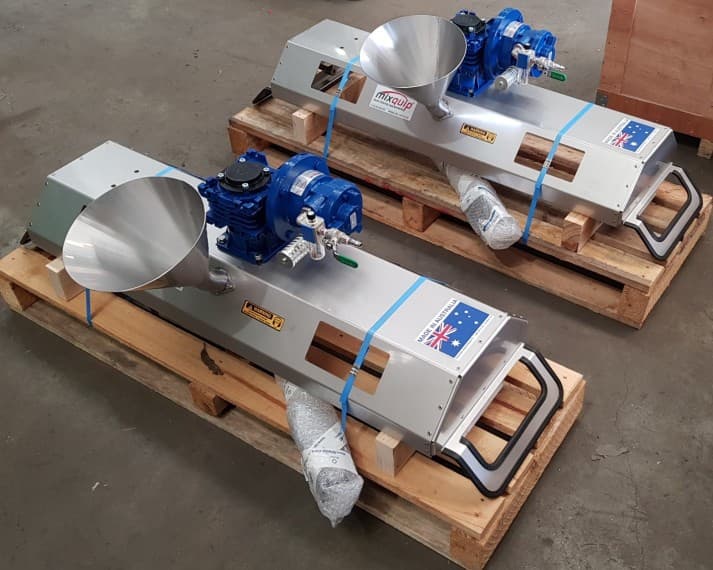 One key reason behind the 40 plus years of success of Teralba Industries, is listening to customers and finding solutions to their frustrations and problems – ways to streamline and speed up production.
One such problem solver is the Mixquip IBC mixer. The continuing rise of IBC (or TOTEs as they are sometimes known) as a means to transport, blend and ship liquid products, led to the introduction of the Mixquip IBC mixer a number of years ago.
Further innovations in these Australian designed and manufactured mixers include EXD Flameproof motors and geared air drive motors (watch operation video) to mix virtually any products that can be shipped in IBC's.
The 2020 Mixquip Series 200 IBC mixer has now made a significant advance  in user friendliness with an  optional "Additions Port".
This stainless steel funnel can now be optioned on any Series 200 IBC Mixer and bolts to the stainless steel bridge of the mixer.
The IBC Additions Port allows powders or liquids to be added directly into the mixing vortex within the IBC. There is no need to forklift the bridge-mount mixer off the IBC, to access the opening, nor cut extra holes in the plastic top of the IBC. Ingredients can be mixed in quickly and effectively, without any mess or spills.  
If you need to blend  ingredients into products in IBC's, please contact the Mixquip  IBC Mixing team on mixquip@teralba.com
Or call: 1300 20 70 20