Product News, Materials Handling & Equipment
Published 08-07-2021
| Article appears in August 2021 Issue
Mixquip bottom entry mixers agitate 220,000 litre milk silos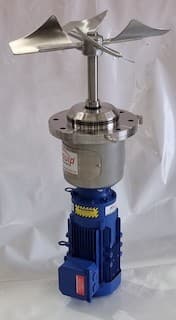 Teralba Industries, an Australia-based, family-owned manufacturer, has come to the rescue of a Victoria-based food processor that needed to mix increasing volumes of a non-dairy milk but had limited resources or space to expand.
The Teralba technical team was asked if it was possible to use some old 220,000 litre milk silos and install agitation? "No problem," was their answer.
Teralba, which makes industrial mixers, plate heat exchangers, immersion and shell and tube, and stainless-steel pressure vessels, had expanded its range of Mixquip Series 500 bottom entry agitators and had just the solution.
The key criteria to convert these old milk tanks into mixing vessels for non-dairy milk included:
- Ground-level installation and servicing
- Ability to mix from full 220,000 litres down to 5,000 litres.
Bottom entry mounting configuration provides a powerful axial flow up through the contents of the tank and, combined with a level sensor and variable speed drive, Mixquip bottom entry mixers have the ability to mix down to less than five percent of the total tank volume.
A further advantage is that the compact design and short shaft mean lower capital costs than a traditional top-entry agitator. 
https://lnkd.in/gA5r7AT
mixquip@teralba.com  1300 20 70 20
www.mixquip.com.au