Mirabella battles to hold key seat
31-08-2010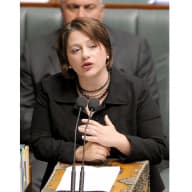 The discovery of 1003 additional votes in the Victorian seat of Indi could spell disaster for sitting member Sophie Mirabella, Industry and Innovation Minister designate.
The Australian Electoral Commission has found the votes at the Wangaratta pre-poll station in north-east Victoria.
The votes go to Ms Mirabella's opponent, the independent Cathy McGowan, the AEC has confirmed.
It will mean, on current voting, Ms Mirabella will trail by 1773 votes, making her task of holding onto the seat increasingly difficult.
The discovery of the votes will be a huge setback for Ms Mirabella, who is struggling to retain the once safe Liberal electorate.
Ms Mirabella has held the north-east Victorian seat since 2001 and previously enjoyed a 9 per cent margin.
She is now facing a strong challenge from local independent Cathy McGowan.
She was appointed Shadow Minister for Industry, Innovation and Science in 2009 and was widely expected to gain the portfolio in the new Abbott government.
On a two-party preferred basis, Ms McGowan leads Mirabella 50.93 to 49.07 per cent.
Labor's candidate Robyn Walsh has 11 per cent of the primary vote.
The future of manufacturing was a key issue in the lead-up to the election and Ms Mirabella has been a driving force behind the Coalition's key industry policies.
Meanwhile, Prime Minister-elect Tony Abbott and his new ministry is expected to be sworn in early next week.
Mr Abbott looks set to honour his pre-election pledge of increased government stability with a cabinet that is likely to strongly resemble his shadow lineup.
The new line-up will include a new ministry for trade and investment, a key election promise.
Mr Abbott has been meeting with public service chiefs to discuss the coalition government's policy agenda and the economy.
One of his main priorities will be to scrap the carbon tax, which has had a crippling affect on manufacturers.