MINIATURE SPINDLES SPIN UP A STORM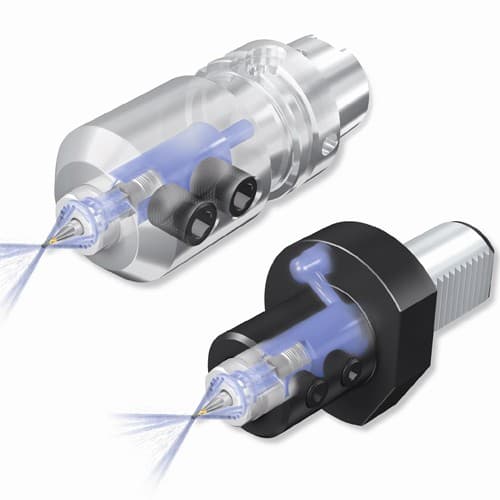 The latest miniature spindles from WTO are capable of rotation speeds up to an impressive 75,000rpm. The CoolSpeed mini is available in Australia and New Zealand from Dimac Tooling.
The spindle is driven by through-coolant, and so no external power source is required. The CoolSpeed mini fits standard sealed  tool holders, and multiple units can be loaded to the magazine during machine setup.
These spindles can perform drilling applications on various materials. The friction clamping between the turbine and the tool shank is sufficiently strong to overcome all the axial forces during drilling.
An assembly device is available and used to assemble the bearings and turbine onto the tool shank. There are separate assembly devices for tool shanks in 3, 4 and 6mm sizes. A replacement kit is also available that includes two bearings and one turbine. These kits are once again designed for tool shank sizes of 3, 4 and 6mm.
Also available from Dimac, the CoolSpeed mini Air is driven by mist-lubricated air, rather than liquid coolant. The mini Air runs from 5-7bar of air pressure, and can run at up to 55,000rpm.
Maintenance is simple for both versions of the CoolSpeed mini. The spindles are removed from the tool holder at the end of the day, washed with running water, sprayed with a protective lubricant such as WD40, and placed in a safe place for re-use the next day.
Dimac
03 9771 6121
www.dimac.com.au