MINI PLCS FOR COST-EFFECTIVE INDUSTRIAL CONTROL
06-07-2017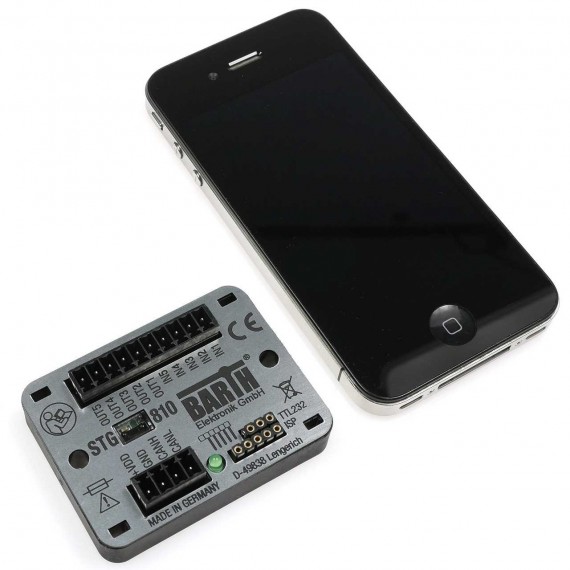 RS Components has expanded its industrial control range with the release of three new mini-PLCs, a new parameter programmer and a touchscreen display all from Barth Elektronik.
The mini-PLCs are based on 32bit ARM Cortex processors, offering considerably higher performance than previous devices. They are programmed using familiar miCon-L software, as well as allowing open source C-programming with the Keil µVision software suite. Each of the PLCs has ten I/Os and a CAN interface.
The STG-800 is the base model, with three 0 to 30V DC analogue inputs digitised to 12bit resolution, a 25kHz-input event counter, a 40µs-input pulse and frequency counter, four solid-state power outputs (up to 1.5A) and a 16bit 1Hz to 25kHz power pulsewidth-modulated output. The STG-810 model adds an IrDA (infra-red) communications port to interface with the new PG-65 parameter programmer. Finally, the STG-820 offers the same as the STG-810, but has an analogue output instead of PWM.
The compact low-power-consumption mini-PLCs are ideal for applications such as: industrial and building automation, automotive and maritime technology, technical education, and white goods. All three come with connectors and open source templates, the miCon-L software suite and manuals.
The PG-65 parameter programmer can be connected used to activate or deactivate programs or upload new parameters and adjust I/O settings without the need for a computer. Its 2.4in 240 x 320 colour touchscreen display, rugged design and intuitive graphical menu make it ideal for field service use. The DMA-20 offers the same functionality as the PG-65 parameter programmer, but with an IP65 (splashproof) touchscreen display.
The mini-PLC range from Barth is available now exclusively from RS Components.
RS Components
1300 656636
au.rs-online.com