Miner invests in the future
14-02-2012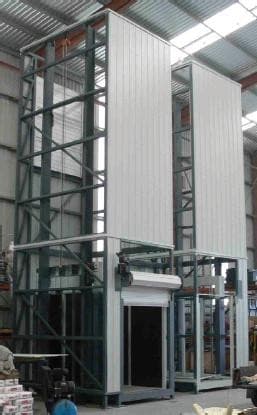 Australia's mining boom has created increased investment in new lifting equipment.

Material handling specialist Safetech has recently provided an iron ore miner with a goods hoist for use in their Pilbara maintenance facility in WA.

To win the order it was essential that Safetech's Goods Hoist was both reliable and suited to an outdoor environment.

The maintenance crew needed a heavy duty hoist that could transfer up to 2.5 tonnes of tool boxes, gas bottles, welding equipment and reconditioning parts to a mezzanine floors which allowed the facility operator to maximise site usage in a safe and efficient manner.

So a custom 2.5 tonne Safetech goods hoists was designed especially for the site.

Design features included two-pack epoxy paint, heavy duty steel slat, powered roller doors and a remote power pack with IP56 switch gear.

None of these options are unusual for Safetech and a custom size deck was also included with 5.4m travel between floors.

The hoist was also clad in metrospan – heavy duty colorbond with weatherproof flashings.
The result is a robust, easy to use 2.5 tonne freight lift that has eliminated the safety problems that previously existed with storage and lifting of equipment on the site.

Safetech goods hoists can be positioned internally or sited external to a building. They are commonly used to move goods to a mezzanine or first floor level or to take product down into a basement.

Benefits include:
Low height (less than 40 mm) – no pit required for most applications. Save on install time and money. Pit maintenance eliminated.
 
Unique customer friendly controls – hoists use a stainless steel, intuitive user interface that is easy to use.
 
Safetech's design ensures that most service operations can be conducted from within the booth.
 
Freight hoist dimensions can be supplied to your exact requirements.
 
On Board hydraulic power unit standard for most models.
The durable construction of Safetech goods hoists also guarantees years of trouble free operation.

Other applications include warehouses, factories, office lifts, car dealerships, distribution centres, shopping centres, self-storage facilities, residential apartments and supermarkets.

Safetech
1800 674 566
www.safetech.com.au