Millsom makes light work of heavy jobs
22-04-2014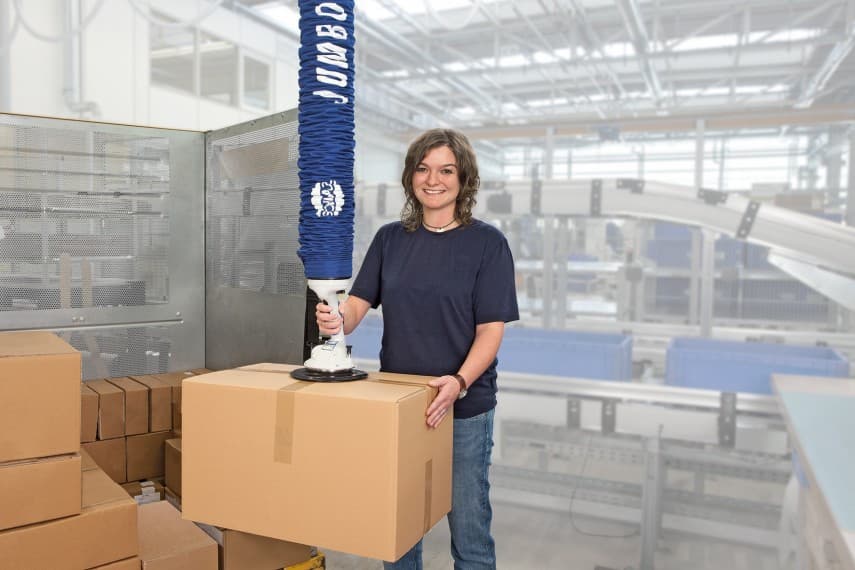 The German designed Schmalz Jumbo Vacuum Tube Lifting system is the intelligent answer to your manual handling problems.
Available from Millsom Materials Handling, the JumboFlex vacuum tube lifter is ideal for frequent, very quick transfer of lightweight goods with a weight of up to 50kg.
It is the perfect handling solution for lifting boxes, cases, cartons, sacks & bags, drums and pails.
The JumboFlex tube lifter can be operated ergonomically and easily using only one hand.
A Jumbo Flex is generally used in conjunction with an easy to move slewing jib crane or low friction light gantry crane system.
Millsom also offers the JumboErgo Vacuum Lifter, which is particularly well suited for frequent and rapid lifting and movement of cartons, cases, boxes, bags, barrels, sheet metal and wooden sheets weighing up to 300kg.
The JumboErgo will seem familiar to anyone who has ridden a motorcycle. With a twist grip similar to a motorcycle throttle, this control system permits rapid and precise handling of loads of almost any weight. The advantage of this system is it can easily be fitted with an optional extension handle, which enables the ergonomic handling of wide products such as chipboard, MDF or plasterboard.
With Millsom's vacuum lifting systems there is no need for hoists, manipulators or pneumatic cylinders to pick up and lift an item.
The operator controls the vacuum in the system with a valve on the control handle. A higher vacuum lifts the load, a lower vacuum lowers it.
Millsom's vacuum lifting systems not only make manual handling easy, they can reduce workplace injuries.
Millsom Materials Handling
Ph: 1800 99 22 11
www.millsom.com.au