Millennium Falcon the size of a micron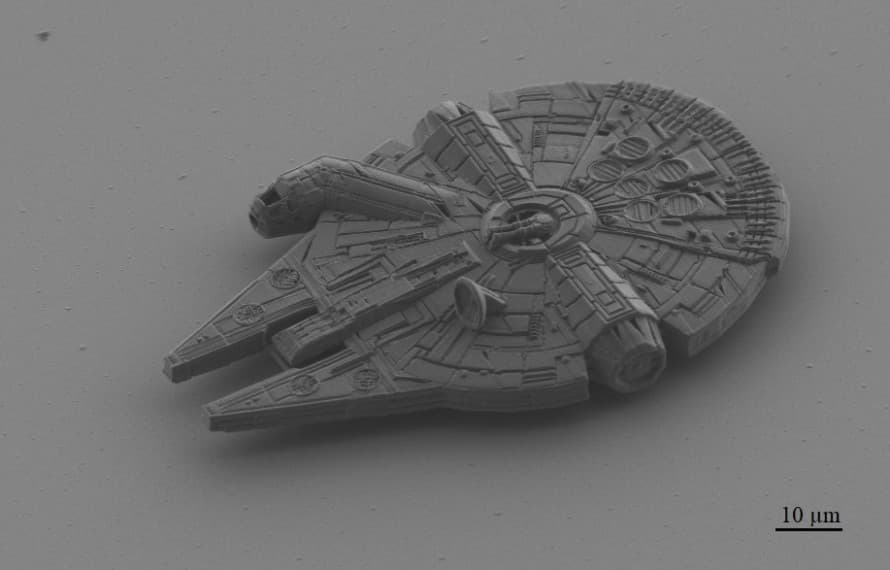 It comes complete with seats for Han Solo and Chewbacca in the cockpit – but good luck trying to see them!
Innovative French company Microlight 3D has 3D printed a tiny replica of the Star Wars spaceship Millennium Falcon measuring a miniscule just 100 microns, or .1mm long – "thinner than a Wookie's hair".
Engineers decided they would use a two-photon 3D printing process for a version of the Millennium Falcon that is just 70.8 micrometers wide and 23.4 micrometers high.
The final structure has such ultra-high resolution and excellent mechanical properties, that by zooming in the cockpit it is possible to distinguish the seats on which Han Solo and Chewbacca sit. Moreover, to fit into this Millennium Falcon – 400,000 times smaller than the original – Han Solo would have to be five microns high – the size of a bacterium!
Taking only 50 minutes to print, the mini spacecraft used Microlight3D's µFAB-3D-Advanced system, which relies on an industrial sub-nanosecond green laser, instead of the femtosecond red lasers others may use for their micro 3D printers.
According to Microlight3D co-founder Philippe Paliard, the piece was perfectly printed in only one take, but in order to capture an image of the craft under an electron microscope, the team had to fix the vessel on a glass substrate. The result is stunning: not only can we see the detailed shape of the chassis, but also front mandibles, weapons, and hull.
The printing system uses the company's newly developed polymer material called "Green-A" photoresist, which is specially adapted to green lasers that operate at a 532 nm wavelength. This gives engineers an enhanced resolution that is even more precise than red lasers, at a 800nm wavelength, as the resolution is directly proportional to wavelength.
It also provides better reliability because these industrial lasers last a very long time with no need for yearly maintenance.
The company also 3D printed two X-Wing fighters, the signature combat craft of the Resistance's Starfighter Corps, and a baby Yoda, one of the franchise's most lovable characters.
Microlight3D's open 3D microfabrication platform μFAB-3D is geared toward research applications such as surface structuration, metamaterials, microfluidics and scaffolds for cell culture.
It's compatible with a wide range of materials including biomaterials. Moreover, this kind of innovation allows Microlight3D to bring 3D printers to the market with unique characteristics including highest printing-resolution, compactness, flexibility of use and reliability.
The two-photon polymerization (2PP) technology used in Microlight3D's micro-manufacturing machines is the result of 15 years of fundamental research at the University of Grenoble Alpes in France, with the team's first scientific publications dating from 2002.
The researchers have demonstrated that the control of laser pulses in the sub-nanosecond regime, together with a careful mastering of the non-linear laser-polymer interaction, can create ultra-narrow and reproducible voxels, which is the base for high-resolution and high-smoothness 3D printing.