Published 07-04-2020
| Article appears in April Issue
Milking it: Lactalis Australia boosts productivity with Dematic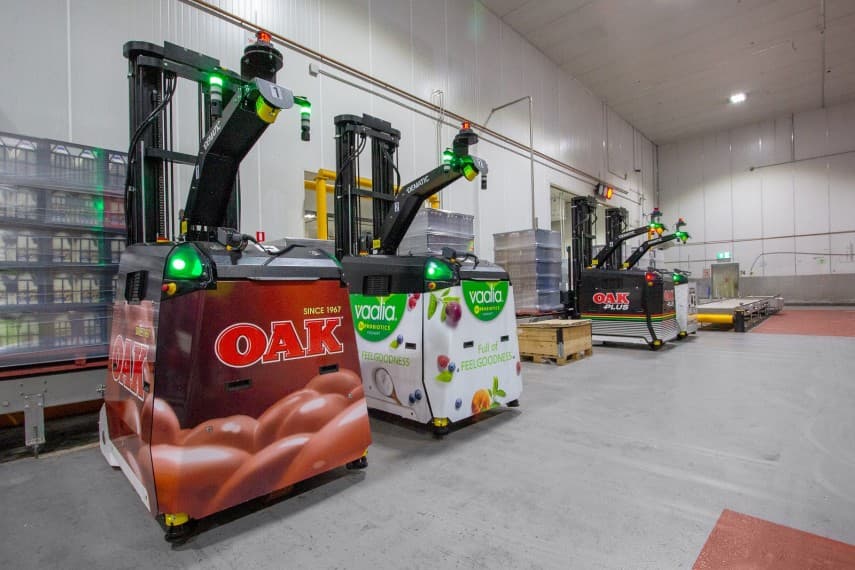 Lactalis Australia is boosting productivity at its Lidcombe milk site in NSW with a new automated guided vehicles (AGV) solution from Dematic to transport pallets of milk that is capable of lifting loads of up to 1.2 tonnes to a height of six metres.
Lactalis Australia (formerly Parmalat) is owned and operated by the Lactalis Group, a third generation, French family-owned business. Its Australian operations date back to the original Pauls milk business which has been running since 1932. Locally, Lactalis has 2,500 employees who work closely with up to 500 Australian farmers.
"One of Lactalis' key goals are to invest in and grow the Australian dairy industry, as well as to promote Australia as a high-quality producer for the Asia Pacific region," said Kristian Brennan, National Logistics Optimisation Manager at Lactalis. "To support this growth, Lactalis is always looking for new ways to improve our operations by boosting efficiencies and productivity.
"The new AGV solution has successfully helped us to significantly increase productivity at our Lidcombe site, as it allows us to run a faster operation 24 hours a day, seven days a week."
The AGV solution chosen by Lactalis, Dematic's Counterbalance Series AGV, manages the transportation of pallets of milk at the Lidcombe site and can lift loads of up to 1.2 tonnes to six metres. The AGVs are well suited to working at the site, which is a chilled environment that has a temperature of 2 to 4 degrees celsius.
Four AGVs work to retrieve pallets from an inbound conveyer system from production, and then feed the pallets into an order buffer, releasing the pallets at a declined angle onto pallet live storage racking. They operate in a small space and manage tight traffic at high speeds of up to 1.7 metres per second.
The AGV solution's accuracy and safety around workers and any obstacles is ensured through sensors and laser scanners that help them navigate with precision. The AGVs are powered by Lithium Ion batteries and can drive themselves onto charging floor plates at times of inactivity and be fully charged in 2 hours.
"The need to optimise productivity and reduce costs in food & beverage supply chains has never been greater," said Tony Raggio, General Manager AGVs at Dematic. "We're excited to see Lactalis Australia has increased its productivity, while also being able to receive a good ROI from its investment in Dematic AGVs."