MILITARY VEHICLES STABILISED BY RACECAR SUSPENSION
15-09-2016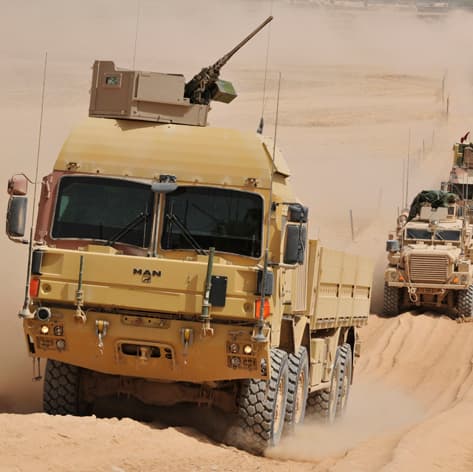 As part of a continuing effort to ensure the safety and stability of tactical military vehicles, Supashock is taking the racetrack shock absorption tech to the military.
South Australian company Supashock has worked in motor sport since 2013, making a name for itself by launching its first product at the 2013 ADAC GT Masters, running alongside bigname brands like BMW and Mercedes Benz.
Now, it's using its experience with damping controls and shock absorbtion to augment Rheinmetall Defence Australia's HX series military trucks.
"We ventured into 4WD's and then progressed into mining and developed an underground system that helps prevent back injuries," said managing director Oscar Fiorinotto.
"In defence, rollowver mitigation is a big thing, and our passive system is extremely responsive; it enables the user to have better ride quality without the extreme damping force."
With the new shock absorbers fitted, their air-spring system allows the vehicles to remain much more stable both stationary and while mobile, making loading and unloading cargo safer and reducing rollover potential.
"We were able to tailor the system and developed an active product for the defence force," said Oscar.
The shock absorbers can be fitted quickly, within a day, and requires no modification for an existing chassis as the module fits completely into the existing setup .
"It has the same productivity that you'd find in our other products, but with the reliability that defence needs to have."