MIGHTY OAKS FROM LITTLE ACORNS GROW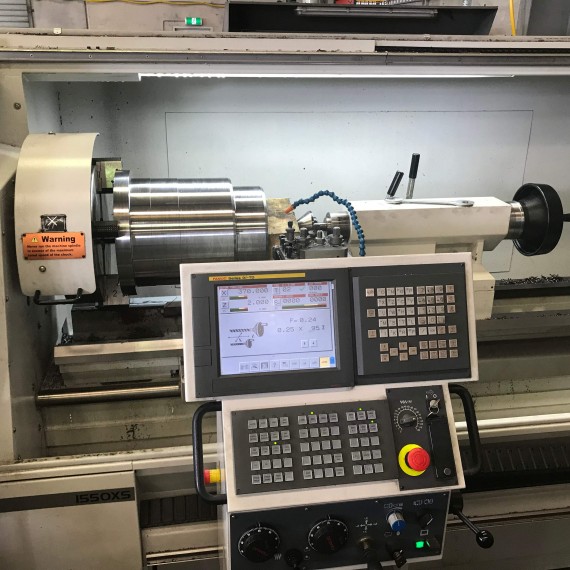 The Alpha 1550 XS in Drill Techniques' workshops
In 2008, Drill Techniques started in the marketplace as an expert in hydraulics and mechanics, focused specifically on the foundation-drilling sector. Its founder, Cameron Gaylard and his wife (and strongest supporter) Jennifer worked tirelessly to build a reputation and a business that capitalised on Cameron's expertise as a tradesman and innovator.
Those early endeavours led the organisation along a path of development that ebbed and flowed with the boom-and-bust nature of mining and construction in Queensland.
When a management team is planning the company's future, it is often helpful to take a retrospective view and see what lessons were learned along the hard road. These lessons often help to determine priorities, especially when making eye-watering decisions about capital expenditure.
This was the background to a major purchase by a Queensland company that, in just ten years, has become a byword across a number of industries involved in drilling.
With a keen mind for fluid engineering and materials, Cameron Gaylard set about identifying ways to improve performance through the design and manufacture of uniquely innovative products used in the drilling industry and, more broadly, across the mining and construction sectors.
Time would see Drill Techniques form breakthrough partnerships with some of the world's most renowned drilling equipment specialists – companies such as Italy's Comacchio and Tecniwell, Spain's Llamada, Japan's Toa Tone, and Canada's Sonic Drill Corporation.
Today, Drill Techniques is a business transformed, and its three primary business-streams deliver products and services to customers around the Pacific Rim.
Second decade
According to General Manager Chris Logan: "As the company entered its second decade, the management team made a decision to bring its machining requirements back in house.
"We have four main objectives: to increase accuracy and reduce error rate, improve lead times for customers, make the company even more competitive and, overall, to improve profit margins."
After undertaking an evaluation process, the Drill Techniques team selected a Harrison Alpha 1550 XS 2-axis manual/CNC lathe.
The machine was supplied by the Brisbane branch of 600 Machine Tools, the exclusive distributor of Harrison lathes in the Asia-Pacific region – both members of the UK-based 600 Group.
Logan explained: "We needed a CNC lathe that was not only highly accurate, but also could be rapidly configured to cope with a constant stream of one-offs and small batches.
"We specified a Fanuc control and a need for conversational programming to ensure that our craftsmen are able to use their skills to best effect.
"It was necessary to interface with our CAD system – the 3D Solidworks software package – a key element in our design, engineer, build operation that converts our knowledge and experience into world-class hydraulic products.
"Over the past decade, the company has built a solid reputation for purpose-built drill rigs, power packs, rotaries and hydraulic clamps, and water recycling systems.
"All these products are designed to operate reliably in harsh conditions, and to comply with all relevant Australian codes and standards."
He added: "The new Alpha will also be invaluable in our other two business-streams: sale and rental of drilling equipment, and service, maintain, and modify hydraulic equipment."
The Alpha 1550 XS is now installed and commissioned in Drill Techniques' workshops at Brendale, a suburb to the north of Brisbane, in the Moreton Bay Region of Queensland.
First steps
600 Machine Tools Brisbane based Applications Engineer, David McDonald said: "The ease of operation of the user-friendly Alpha range has been appreciated not only in the workshops of industry, but also in the workshops of education and training centres around the world.
"The hugely popular XS CNC combination lathe range is noted for its speed, accuracy, and surface finish to exacting toolroom accuracy standards (DIN 8605), which ultimately significantly reduces component production costs.
"I do not believe that there is another lathe on the market today – including full CNC machines – that can compete with the Alpha XS for speed of production when it comes to one-offs and small batch turning."
He explained: "Fast, easy setup times and simple operation in all modes are the keys to this model's undoubted success. It benefits from the ultra-high speed OiTF CNC control along with Harrison's own developed Alphalink software."
David McDonald added: "The rumours are true! Harrison's newly introduced XC model can execute off-centre drilling and boring, hexagonal milling, and much more.
"It's a remarkable combination CNC lathe that gives workshops the ability to perform secondary operations that usually require machining centres or expensive slant-bed CNC turning centres."
Readers can see it reviewed on video here.
600 Machine Tools
02 9674 4738
www.600machinery.com.au