| Article appears in October 2021 Issue
A Mighty Manufacturing Acquisition - Mark Two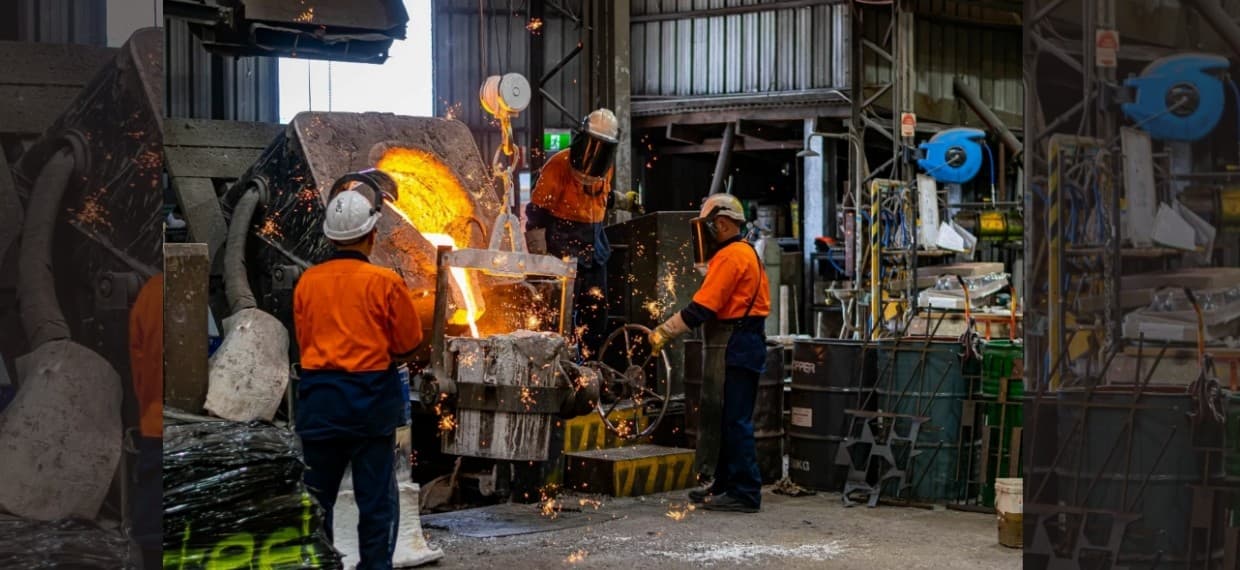 Brothers Dan and Tim Murphy, together with Stephen Flannery and Dominic Neate, are all stakeholders in the promising and innovative company, Durst. They recently acquired another manufacturing business, Austral Alloys, and are energised about its potential prospects. 
Earlier this year, an opportunity came across Dan and Tim's desks – one that they couldn't ignore. Austral Alloys has a strong reputation for producing quality products and this coupled with an experienced workforce, presented them with an opportunity that reminded them of successful acquisitions in the past.    
"We've got a history of buying businesses with a good, experienced, blue-collar workforce," says Dan, who is now one of the company's directors.   
"Our business philosophy is that we find older businesses and attempt to inject a combination of new people and improved systems - and we find that this helps grow the business and improve the bottom line."  
"We introduce 'corporate governance' through a strong board of directors. With companies like Durst and Austral Alloys we feel the existing managers have been paddling the boat themselves, so when you bring additional resources in at that senior level, you find that you have more oars in the water, you can build better momentum and achieve greater outcomes. History also tells us that we can eliminate some problems that they may have encountered in the past. 
"We have a 15 plus year relationship with the St.George  bank. Like ourselves, we believe St.George  are interested in building long-term relationships. We have a developed a great rapport with our relationship manager, Matt Kelly, so when a good opportunity comes our way, we have no hesitation in approaching St.George  to obtain the financial assistance required to get the deal over the line."  
As this is the consortium's second manufacturing acquisition in recent years, it of course leads one to believe that they have a very positive view of the future of this sector in Australia.  
"We all hope manufacturing in Australia is going to see a resurgence following the covid pandemic. Austral Alloys is experiencing an influx of enquiries at the moment, I think because people are done with sourcing products offshore and their preference would be to deal with a local manufacturer" says Dan.  
"What we've been led to believe, and what we've witnessed ourselves is, a lot of the components that we make that might have been imported from overseas in the past but they are heavier and bulky objects, and they're not suitable for air freight. In the past these products tend to be imported via shipping, and the container cost for shipping has increased significantly in the past twelve months.  
"Freight costs are all of a sudden making the local manufacturer look a lot more of an attractive alternative. And shipping times! Once people could rely on shipping times - now they're less reliable, and this is having a knock on effect. This is another reason people are looking and turning to local manufacturers."  
"Some manufacturing sectors that have been completely dismantled in Australia, like car manufacturing – and these probably won't be re-established from the ground up again but some of the smaller industries, for example the foundry industry, might get a bit of a resurgence as they will be a lot more attractive to the local marketplace," forecasts Dominic. 
When it comes to differentiating from Durst, the Directors clarify: 
"Durst is slightly different. It doesn't make as many of the components, it's more of an assembly business and a distribution business. Whereas Austral Alloys has a heavier manufacturing component. They are similar in that there is an environment of blue-collar workers, experienced management and both enjoy a large, diverse and loyal client base." 
So, are we to assume that this is the beginning of a bigger manufacturing portfolio for this group? 
"One opportunity at a time!" laughs Dominic. "There are significant improvements and systems we want to implement at Austral Alloys and these are going to take time, energy and expertise to maximise the potential upside.  
"We believe there's a few years work ahead to make the improvements we can. We're ready to inject some "new blood" and youth into the business to complement the experienced workforce and management.  Further down the track, once some traction has been gained, it's an industry that would lend itself to acquisitions and bolt-on businesses. Never say never, but we've got plenty on our plate at present, especially considering we are also dealing with the challenges that a global pandemic present." 
Tim extrapolates: "We are also committed to spending money, improving the workers facilities. Compared to modern standards, the existing facilities are probably subpar. We want to improve them, improve the laboratory, the front office and ensure everyone enjoys coming to work every day." 
One point of difference that the consortium would like to focus on moving forward is to ensure we continue to value our client base, and ensure we strive every day to exceed their expectations. We're not such a big organisation that we've lost touch with our clients but we're certainly bigger and more professional than a backyard operation." 
"We bring a mindset that you need to spend money to make money - you need to invest to grow. Not all managers think like that. We are long-term players. We are genuinely interested in this industry," says Stephen. 
"They [the workers] have a very good reputation for delivering a very good quality product and if it's not up to scratch, they put it back in the melting pot and start again." Dan continues. 
Austal Alloys is unique in the foundry industry in that it heats and moulds up to 350 plus different alloys, whereas most of its competitors would predominately deal with approximately 12.  
"We provide for an incredibly wide and diverse client sector. We were pleasantly surprised to discover the sectors that utilise Austral Alloys to produce castings, include agriculture, mining, wind generation, yacht building  – it's quite incredible," Tim says.
 "They've also got a number of very good clients that are growing progressively, and one of the immediate challenges is for us to grow with them. The timing's good – we've come on board. We're committed to investing the money, energy and expertise to capitalise on what we see as a business with untapped potential. It is very exciting."