MICROPROCESSORS SPEED DEVELOPMENT OF IOT APPLICATIONS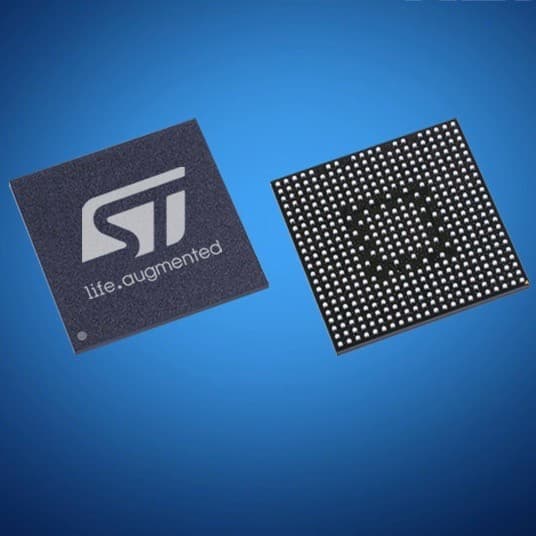 The STM32MP1 series of microprocessor units from STMicroelectronics is available from Mouser Electronics. These powerful units are based on a heterogeneous multicore Arm Cortex architecture and boast high feature integration and impressive graphics support. They support both open-source OpenSTLinux distribution and STM32Cube toolset to facilitate the rapid development of IoT, industrial, consumer, and health and wellness applications.
These microprocessors deliver rapid processing based on one or two Arm Cortex-A7 cores plus an Arm Cortex-M4 core for real-time and low-power tasks. Designers can allocate the device's peripherals to either the Cortex-A7 core for ST's OpenSTLinux distribution or the Cortex-M4 core for real-time tasks using ST's STM32Cube tools.
They offer 708Kbyte of system RAM and 64Kbyte of retention RAM, plus support for a broad range of external flash and DDR SRAM memories. They also integrate a LCD-TFT touch controller, with optional MIPI-DSI controller and 3D graphics processor unit to support HMI displays.
Mouser also stocks the STM32MP157C-DK2 discovery kit, which features an onboard STM32MP157 MPU. The kit includes an ST-LINK embedded debug tool, push buttons, LEDs, and a broad range of connectors, including a Gigabit Ethernet connector, four USB Type-A host connectors, one USB Type-C OTG connector and an HDMI transceiver. It offers Wi-Fi and Bluetooth Low Energy capabilities, as well as a touch-enabled LCD display for HMI designs.
Mouser Electronics
+852 3756 4700
au.mouser.com