MICROPLASTIC BANS URGED
05-12-2017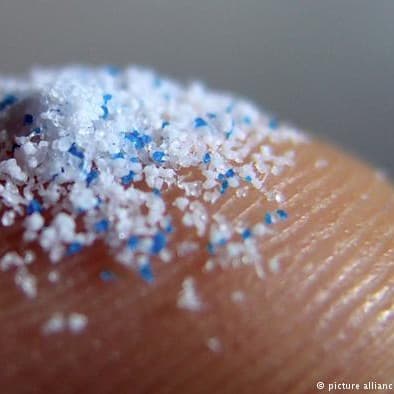 Microplastics are found in all kinds of industrial and commercial products. Glitter is the most notorious example, but microplastics can be found in exfoliating gels and scrubs, synthetic fabrics, and even some toothpaste brands. 
For years, the scientific community has been urging governments to implement bans on products that intentionally include microplastic components, due to the high risk of environmental contamination. Their tiny size makes them difficult to filter out during a treatment process, and they easily make their way into the environment. 
"The problem is you go home wearing glitter or have microbeads in your makeup," Foundation for National Parks and Wildlife CEO Ian Darbyshire said.
"You wash them off and they go straight from the shower to the ocean."
With a recent study showing evidence of ocean microplastic contamination at far higher levels than predicted, concerns have begun to rise about the impact microplastics will have on the ecosystem and food chain. 
Mr Darbyshire explained plankton eat the microplastics that are then consumed undigested by bigger and bigger fish, "even whales".
"They make their way into the food chain because fish and other animals can't break them down," he said.
"We're then eating the fish and we can't break [the plastic] down either. It's frightening stuff."
In the United states, all cosmetic products are forbidden from including microbeads, a specific type of microplastic, as an ingredient. Many global brands (such as Lush cosmetics) are moving away from plastic-based glitters, and instead producing plant-based replacements. 
In August a spokesperson from the Department of Environment and Energy told the consumer group Choice 80 percent of companies with products containing microbeads had or were being phased out.
They added "if the current industry-led approach does not effectively phase out microbeads by mid-2018, governments will move to implement a ban".
Even if all microplastic usage is halted, current levels of plastic in the oceans does need to be reduced. While there are plans underway for the filtering and collection of macro plastics, microplastics may remain elusive for some time.