MICHAEL KORS BRINGS ACCESS TO FASHION AND TECHNOLOGY
07-09-2016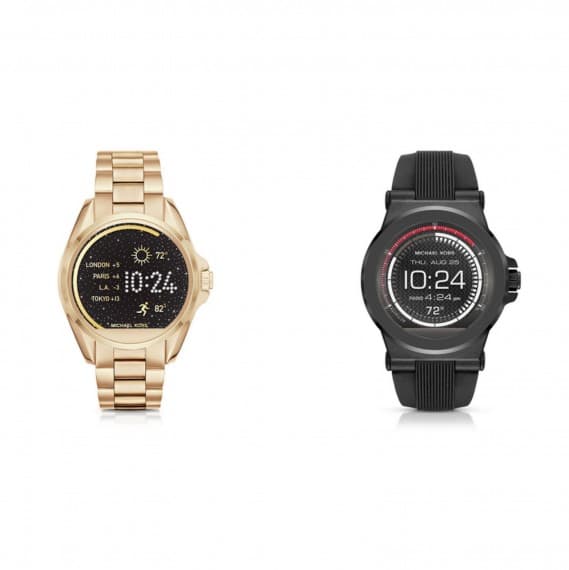 Michael Kors Access: Female and Male models
As technology is evolving at an ever-increasing rate, companies are being forced to adapt regardless of their involvement in technological advancement. From manufacturing to design, there is an ever-growing push for companies to embrace technology.
Today, Michael Kors, the world renowned fashion brand has joined the ranks of smart watch manufacturers, adapting to the new world of technology by the release of their smart watch 'Access'.
The company has 35 years of experience in the fashion world and aims the new line at fashion-focused consumers and people who want innovative technology in an elegantly designed smart watch.
As Michael Kors said: "Our customers love fashion and they're plugged in 24/7… I think they'll appreciate having social connectivity and health and fitness tracking all within a great-looking accessory."
The Access has been designed so it can show off its technological prowess and social connectivity in a seamless and elegant design which has been all possible because of Google's Android Wear™* operating system that has allowed this watch to be compatible with both Android and iPhone users.
So what about the smart watch itself? What can it do on paper?  Michael Kors has said that the new watch will feature exclusive Michael Kors display watch faces, which change with a swipe—whether it's a digital chronograph design for the gym or glittering, animated pavé for night, along with hundreds of possible combinations of display face, color and sub dials.
 The touchscreen display smartwatch powered by Android Wear that provides:
Social media updates and text and email alerts
App notifications
Smart help from Google
Built-in fitness tracking
The watch also provices interchangeable leather and silicone wristbands, both a male and female version, magnetic charging, and the Qualcomm® Snapdragon™ Wear 2100, a system-on-a-chip (SoC) designed to ensure a highly interactive touch screen experience
John Idol (Chairman and CEO of Michael Kors) has said, "We're excited to offer our customers smart, great-looking watches that will help them to stay on top of their daily lives while uniquely expressing their personal style."
David Singleton (VP of Engineering for Android Wear) has said that they envision that the Michael Kors customer lives a busy, fast-paced life and they believe that is for who the Michael Kors Access smart watch would be the perfect fit for.
He continued to say that the Michael Kors Access and Android Wear would move the wearables category into a field where both technology and fashion could meet together in daily life while you can still express your personal style.
The Michael Kors Access will start $USD350 and activity trackers are also going to be launched that will start at $USD95. Both of these items will be available through Michael Kors stores, MichaelKors.com and select department and specialty stores.
For more information, you can find it here:
Michael Kors Access: http://www.michaelkors.com/Access 
Android Wear™ requires a phone running Android 4.3+ or iOS 8.2+. Supported features may vary between platforms. Visit g.co/wearcheck on your Android phone or iPhone® to see if your device is compatible.