Mew Protag Elite advanced test and tag system
31-08-2010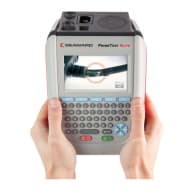 The new Seaward ProTag Elite System, distributed by Emona Instruments, is Australia's most advanced testing and tagging and asset inspection management system.
It tests portable appliances and RCDs, records asset photographs and inspections, prints Elite UV and harsh environment resistant test tags and downloads all test results, asset photos and inspections to management software.
The ProTag Elite System comprises the Seaward Primetest Elite appliance and RCD tester, ProTag Elite test tag printer, bar code scanner and PATGuard Elite 3 asset management software.
The PrimeTest Elite carries out all of the tests required under AS/NZS3760 for appliances and leads, and carries our 30mA RCD tests.
It also operates as a handheld asset inspection system by allowing asset photographs to be taken using the in-built camera with flash and users can record any type of test, inspection or risk assessment with their own user defined inspection routines. This eliminates the need for carrying around a separate tablet or laptop for recording the results of non-electrical inspections and risk assessments.
Other advanced features of the PrimeTest Elite include compact QWERTY keypad, high definition colour display, USB for data upload/download, inbuilt isolation transformer and a huge on-board memory that stores 50,000 assets and 2,000 asset photographs. The system is fully protected by the impact resistant transit case supplied as part of the kit.