Metromatics unveils new mini accelerometer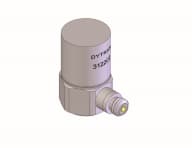 Ideal for high temperature environments … the Dytran model 3122C
The Dytran model 3122C from Metromatics is a miniature charge mode accelerometer for use in high temperature general purpose vibration applications.
Designed for reliable performance in temperatures up to +191°C, the Dytran model 3122C is available with a sensitivity of 50 pC/g. 
These charge mode accelerometers feature a hermetically sealed, all stainless steel design with the sensor operating in compression mode. 
Total weight is 25g, and the height is 1.3cm, making the unit ideal for environments where high temperature and low mass are required. 
Units feature a 10-32 radial connector and 10-32 tapped mounting hole.
Model 3122C is part of the 3122C series of piezoelectric accelerometers, which differ in terms of their sensitivity. 
Model 3122C is offered with a 50 pC/g sensitivity, and model 3122C2 is offered with a sensitivity of 15 pC/g.
Key features:
Small size
50 pC/g sensitivity
10-32 radial connector
10-32 tapped mounting hole
+191°C operation
Charge mode
Applications:
Environmental Stress Screening (ESS)
Vibration control
General purpose high temperature vibration monitoring
Dytran Instruments, Inc. is represented in Australia and New Zealand by Metromatics.  
Metromatics Pty Ltd
Ph: 07 3868 4255