Product News, Plant & Machinery
Published 27-05-2021
| Article appears in June 2021 Issue
Metalmaster clears the air with its S-H13 welding fume extractor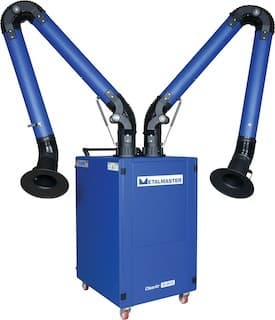 Metalmaster's European-made S-H13 Mobile Welding Fume Extractor is a compact fume extraction and filtering unit designed for use in manufacturing or fabrication facilities. It filters fumes from Mig, Tig and Arc welding on all materials that produce intense gases and vapours.
A three metre long, 160mm diameter Exo-Joint swivel arm provides high velocity extraction. This unique arm design delivers up to 56% more air flow efficiency with its low drag characteristics when compared to pleated hose arms that require internal support.
The Metalmaster S-H13 can process a high volume of 1,300 cubic metres per hour combined with dual stage air filtering capability, featuring a class leading 23m2 of filter media surface area to prolong the life of the filter and promote quiet operation of less than 69dBA.
The extractor's HEPA H13 filters are compliant with EN ISO 15012 W3 standards and produce fully respirable clear air. The filters are designed for contamination-free filter changing from the clean air side.
For larger fume extraction requirements, the Metalmaster D-H13, featuring twin three metre Exo-Joint swivel arms processing 2,600 cubic metres per hour, is a better choice.
These compact, space-saving mobile welding fume solutions are ideal for manufacturing lines, steel fabrication facilities, construction of transport vehicles and anywhere welding is an integral party of operations.
www.machineryhouse.com.au/w2710k