METAL SPRAY PROCESS BRINGS WORN COMPONENTS BACK TO SPEC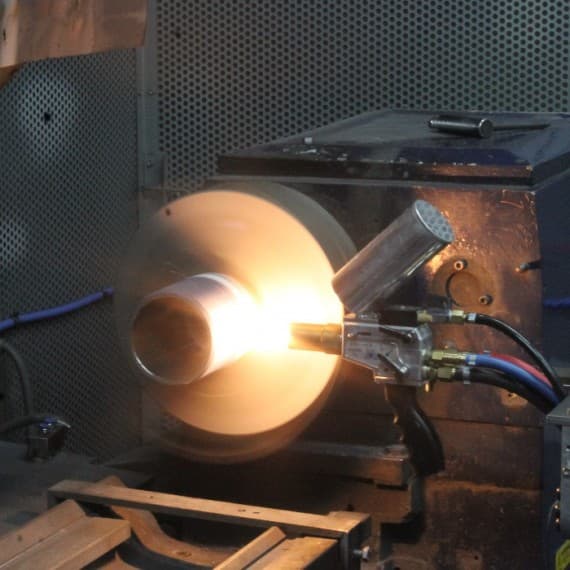 Reducing waste, saving time and money are all requirements of today's society. Finding ways to achieve these goals is not really that difficult, except for the fact that many engineers have never heard of the metal/thermal spray process.
The process provides a quick turnaround to returning parts that have moved out of tolerance during service but are otherwise in good order. This is achieved for a lot less money and in a shorter timeframe than having to obtain new replacement parts, possibly from overseas suppliers.
Metalspray is a controlled process/technique that just requires adherence to procedures and parameters to obtain the required results. The technique is not difficult to learn, and so the savings can be instant.
Components can move out of tolerance as a result of abrasive, corrosive or adhesive wear, through physical abuse (bent journals, scratches, dents etc), from process defects (surface blemishes or casting imperfections), or due to machining or processing errors.
The Metalspray process involves the deposition of metal or ceramics onto the surface of the component. The spray deposit is a series of micro sized, semi-molten particles of the material that are applied in a stream of high pressure gas or arc.
On impact with the surface these particles form a splat, quench, freeze and bond - both to the component and each other - to form a thin 75 to 125µm layer of new material.
Additional passes continue to build up the material until the desired thickness is reached. (This is usually the amount needed to restore dimensional size, plus a finishing allowance.)
The sprayed deposit can then be ground, machined, milled, filed, honed and emery polished to obtain the tight dimensional tolerances and surface profile that today's operating equipment demands.
There is no need for extensive and time-consuming masking of the areas adjacent to a planned build up area. Nor is there any need for extensive pre-machining that may further weaken a part.
The process can be portable. The Metalspray process doesn't require pre or post heat treatments, in most cases, nor harsh chemical cleaning.
Some specific examples of what Metalspraying can do include:
• Returning bent journals on all types and sizes of shafts, rollers and cylinders to inline operating condition.
• Salvaging mismachined component diameters - either inner or outer.
• Restoring scored or worn seal, bearing and gear diameters to optimum operating condition.
• Re-establishing slide, tap or press fit dimensions and concentricity.
• Increasing and improving the performance of running or sliding surfaces.
When compared to welding, Metalspray is an economical and efficient "cold" build up process. Relatively thick (>4mm) or thin deposits of many materials such as stainless steel (316, 420 etc), molybdenum, aluminium, aluminium bronze, tungsten carbide, ceramics (chrome, aluminium oxides etc) can be quickly and easily applied to ferrous and nonferrous surfaces without causing any warping or distortion, adversely affecting adjacent areas or changing the mechanical properties or metallurgical characteristics.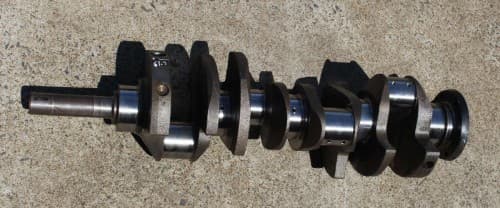 Crankshafts can be repaired if worn, mismachined or obsolete (vintage)
Although the main feature of the Metalspray process is its ability to return specified dimensions. An additional benefit is the ability to enhance performance by applying a more desirable, better performing material onto an out-of-tolerance surface.
Applying to new components also gives added benefits. This is why today's cars lighter in weight, more energy efficient and yet withstand their hash operating environments? The same can be said for aerospace and many other industries.
Almost any surface can be treated – outside or inside diameters, flat, convex, concave surfaces, up to edges, holes, flanges, radii and shoulders - without concern about the deposit lifting, peeling, flaking, cracking, tapering or pulling away from the surface.
This process is not new and has been available since the early 1900s. For many years part manufacturers, machinery repair companies and others serving industries such as aerospace, pulp and paper, automotive, electrical, diesel engines, machinery and printing have relied on the metal/thermal spray process to save them time and money.
Metal Spray Supplies Australia (MSSA)
07 3823 1004
www.metalspraysupplies.com