Product News, Manufacturing Technology, Metal working
Published 09-02-2021
| Article appears in February 2021 Issue
Metal spinner of AFL Premiership Cup kicks goal with Yawei machines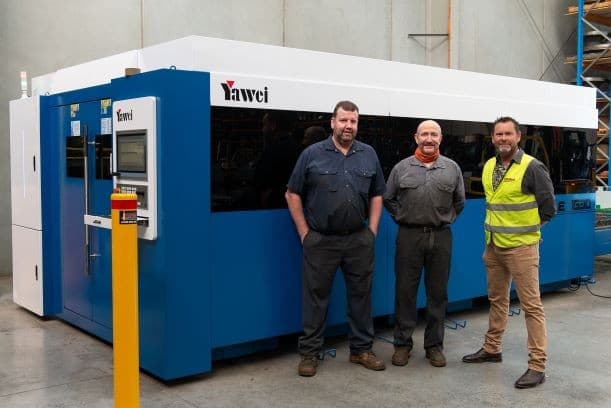 Metal products can be spun using one piece of material to produce parts without seams or welds. Without seams, a part can withstand higher internal or external pressure exerted onto it.
One of the more unique products that Tighe Metal Spinners produces each year is the AFL Premiership Cup for Cash's Australia – something they have been doing since 1999.
The company's investment in two Yawei machines – a PBH 110-3100 CNC5 pressbrake and an HLE-1530 2kW fibre laser – has given them a leading edge and made the process even easier.
"We wanted a laser cutter primarily to cut our circles rather than use a guillotine and circle cutter," said Owner/Directors Jeff and Rod Tighe.
"We're more than happy with the Yaweis and the quality of our cuts and what gets fed into the pressbrake and lathes is A1. It has also opened up new markets and opportunities for us."
The Yawei brand was recommended by an associate in the manufacturing sector who'd had first-hand experience of Yawei's excellent quality and performance; this included a very positive report on the back-up and support provided by Applied Machinery.
Whilst the Yawei brand was a big attraction, it was Applied's impressive local set-up that cemented the deal.
"When we viewed the Yawei fiber laser at Applied's factory we were amazed at how quick it was and the fact it could complete the whole process in one operation – and of course produce a far more accurate cut," said Jeff and Rod.
"The fact they had a good reputation in the market, a full showroom where they could demonstrate machines, coupled with large numbers of technical service and support staff to provide the all important back-up – that's what made us buy.
"The whole purchase and installation process was seamless; from the top down all staff are excellent. Matt Keogh (Technical Manager) taught us one-on-one, making it easy to introduce the Yawei's many features to all our staff and ensuring we got the most out of the machines," they added.
"Both Yawei machines have exceeded our expectations. It has opened up new markets and opportunities for us and will ensure we can continue to offer outstanding customer service and the highest quality products."
Formed in the Melbourne suburb of Burnley, Tighe Metal Spinners is a family-owned company operated by brothers Rod and Jeff Tighe.
Early in the 1960s the business moved to Moorabbin where it remained for many years until moving into a brand new 1,600 square metre state-of-the-art production facility based in Keysborough, Victoria in 2014.
The company has always been involved in the specialised area of metal spinning (also known as metal forming), a process by which sheet metal is rotated at high speed over a mandrel to form round metal parts for domestic or commercial use.
CNC technology enables the company to provide a diverse range of products with efficiency and accuracy to specialise in high-quality and intricate machining jobs.
The use of CNC lathes enables one-offs, short runs or high volume spinning whilst faster cycle times provide greater cost efficiencies to customers.
Common manufactured parts include parts for ducting, cones, flanges, diffusers, fan panels, cylinders, hoppers, hemispheres, inlet bells and many other formed metal parts.
The company has grown steadily through the years, both through new customers and the acquisition of a number of smaller metal spinning companies.