Published 12-03-2019
| Article appears in February 2019 Issue
METAL PARTS MAKER CELEBRATES A CENTURY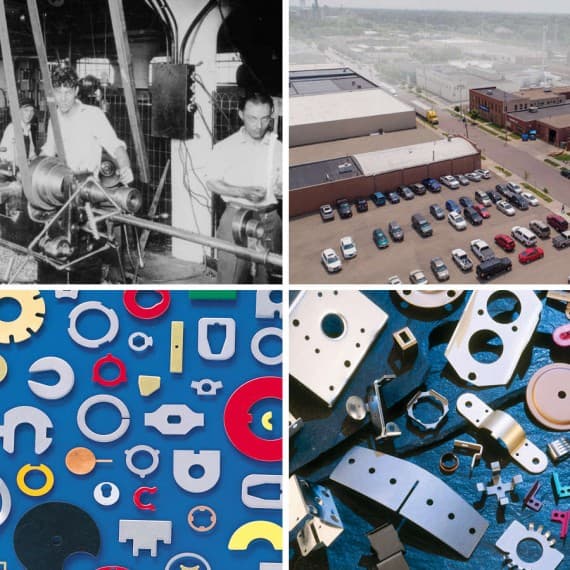 Boker's, the iconic US manufacturer of precision metal stampings, washers, spacers and shims, celebrates its 100th anniversary in 2019. The year will also see the opening of a new manufacturing facility and a fresh commitment to serve international markets, including Australia.
The company was founded in 1919 by Vitus Boker and his son John. The first products to be manufactured were an envelope folding machine and a small hand check protector. However, Boker's soon began generating more revenue from manufacturing prototypes and custom parts for automated machinery.
As the word spread of the company's ability to produce high-quality, short-run, stamped metal parts, demand grew. Vitus Boker became one of the pioneers of short-run stampings. The business boomed and has continued to flourish throughout the years, growing in space and customer base.
Today, Boker's is still a privately held family-owned business, guided by Vitus Boker's principles of hard work and attention to detail with Bill Tedlund as Chairman of the Board. From starting to help out the family business as children, the legacy continues with Bill's children Wendy, Amy and Barry as shareholders. Amy Kersey (Bill's daughter) is the current CEO/President and her sons, Chuck and Tony Kersey as the 5th generation at the helm of Sales and Marketing.
Boker's has manufactured parts for almost every industry and product imaginable: from payphones, coffee makers, medical devices, missiles, mail sorting machines to dental instruments, snowshoes, and aircrafts. Stampings and washers are needed in virtually everything we use or come in contact with on a daily basis. "The parts we make affect everyone we care about, and that's why delivery of quality components through certified processes are important," says Tony Kersey, Marketing Manager.
Boker's is currently expanding its manufacturing facility to streamline processes and add capacity as product diversification continues to grow. The new space adds 6650m2, almost doubling the existing manufacturing space. "I'm looking forward to getting the new plant up and running," says Amy Kersey. "This expansion will help us continue to exceed our customers' requirements into the future without ever losing sight of their needs, nor our team."
"Our controlled processes coupled with our employee base is what sets us apart," says Chuck Kersey, Assistant Sales Manager. "Our team works hard and is dedicated to following and continually improving processes. This is the reason Boker's is successful and will continue to be for the next 100 years."
Boker's
+1 612 729 9365
bokers.com