MESH NETWORKING FUNCTIONALITY EVALUATION KIT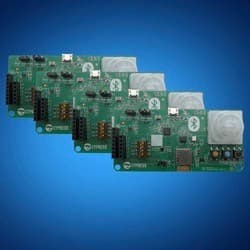 Mouser Electronics stocks the EZ-BT mesh evaluation kit from US-based Cypress Semiconductor. This battery- or USB-powered kit allows designers to evaluate the Bluetooth mesh networking functionality of the CYBT-213043-02 EZ-BT WICED module.
The kit contains four evaluation boards that allow engineers to evaluate a mesh network with just one kit. Each board includes a fully certified CYBT-213043-02 EZ-BT module, a thermistor, ambient light sensor and PIR motion sensor, a coin cell battery holder, a micro-USB connector, and an on-board programmer and USB-UART bridge.
The module is based on an ultra-low-power and highly integrated CYW20819 dual-mode Bluetooth 5.0-qualified device. The CYW20819's low power and integration capability addresses the requirements of both battery- and wall-powered applications that require Bluetooth Low Energy mesh, such as sensor nodes, locks, lighting, asset tracking and other smart home applications.
Engineers can program the kit in v1.1 or later of the ModusToolbox integrated development environment. ModusToolbox includes a number of demo code examples to help engineers quickly implement real-life mesh applications.
Mouser Electronics
+852 3756 4700
au.mouser.com