MERCEDES BENZ DRIVERLESS BUS COMPLETES 20KM TRIP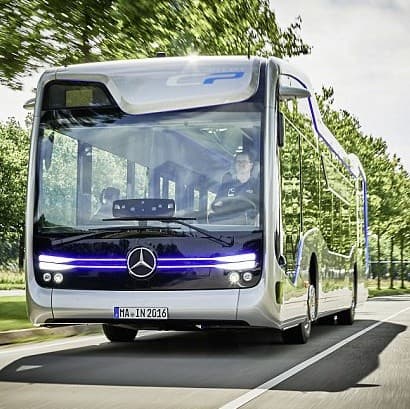 The road to driver-less cars has so far proved to be one that will be paved with innovation and deign.  With some of the biggest players in the auto industry jumping on board, it came as no big shock when CityPilot's Mercedes-Benz self-driving bus program in the Netherlands, saw one of the Future Bus' drive 20km.
The bus drove through a route that went through Amsterdam's Schiphol airport to the nearby town of Haarlem. The bus had to stoat traffic lights, pass though tunnels and be wary of pedestrians.
The Future Bus technology has been developed by Mercedes to make sure it is well suited to the city of the future, and focused on designing the interior of the bus.
The company's website states that there are three separate zones that are designed based on the length of the trip, with displays for entertainment, and a ceiling adorning images of forest canopies.
The CityPilot program ensures that these vehicles are integrated with city infrastructure, meaning the Future Bus is networked with traffic lights so it can communicate on cues of light changes.
On the bus itself there are a close range camera that manages "fingerprint level" recognition of asphalt details, and cominaing it against previous trips to adjust to different road conditions.
The vehicle can manage speeds up to 70km/h and can navigate to bus stops along the way to pick up passenger.
Although autonomous buses have already hit the streets, Mercedes has shown a successful real world test of the technology which will help further the move towards autonomous travel.