MENTORING SERVICE SUPPORTS SMALLER AUSSIE MANUFACTURERS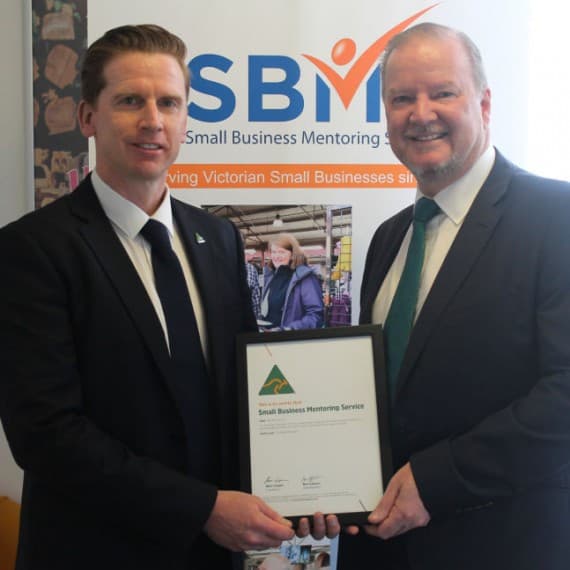 Ben Lazzaro (left) welcomes David Gregory to the campaign
Australian Made has added the Small Business Mentoring Service (SBMS) as a Campaign Associate to support the growth of Australian small businesses.
Founded in 1986 by retired business leaders, SBMS now has more than 180 experienced business mentors that provide upwards of 5000 mentoring sessions a year and supporting an ever-growing number of small business owners, including Australian manufacturers and producers.
According to SBMS, the cumulative benefit of the businesses supported has delivered more than $12.5 billion to the Australian economy.
SBMS CEO David Gregory says: "You don't get big business without medium-sized businesses and you don't get medium without small. SBMS helps small businesses deal with any issues that they need help with, including management, finance, marketing, social media, OH&S, or even starting a new business.
"We are proud to partner with the Australian Made Campaign to highlight great Australian small businesses, manufacturers and their products."
The arrival of the SBMS has been welcomed by Australian Made Chief Executive Ben Lazzaro, who says: "Manufacturers and growers are key contributors to Australia's small business community and are fundamental to our economic success.
"They create jobs and are often leaders of innovation, creating Aussie products of the highest quality, sought after here and in overseas markets."
Australian Made Campaign
1800 350 520
www.australianmade.com.au