MEN IN BLACK: NEW ZIP SIDED BOOT FROM OLIVER
16-02-2016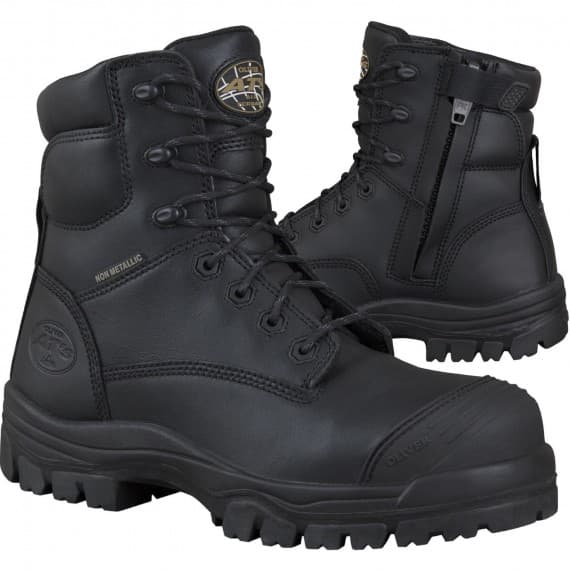 Off the back of the success of the 45-632Z 150mm Wheat Zip Sided Boot, Oliver now offers a second colour option that is just as versatile, comfortable and hard wearing.
In this instance the boot upper is water resistant black full grain leather, with the added convenience of a zip side for ease of entry and release.
Guaranteed not to activate metal detectors this boot won't generate sparks or even rust as the composition of the AT 45-645Z has a hard wearing dual density PU/TPU sole with a composite safety toe cap to protect the foot against injury.
The AT 45-645Z also incorporates the Oliver SOFTstride® comfort system with exceptional underfoot cushioning that works to soften and absorb impacts on the foot stride after stride.
This feature is achieved by a layer of open cell low density urethane foam that is built into the insole that contours to the individual foot shape.
Oliver's SOFTstride® provides the added reassurance and comfort to get through long hours of working without being weighed down along with superior protection and is thus offering the ultimate in work boot comfort.
Key features incorporated in the new AT 45-645Z include premium water resistant leathers, the innovative hi-impact non-metallic composite safety toecap that has the traditional NATUREform® wide profile being 45 percent lighter than traditional steel toecaps yet still exceeds industry safety standards.
Additionally, the AT 45-645Z features the TECtuff® rubberised toe bumper to safeguard against premature wear caused by scuffing. 
The Oliver COMFORTcushion® Impact Absorption System also protects the heel and ball of the foot with the Odorban™ Control Technology providing the anti-microbial treatment to the boot lining and footbed to protect against odour, staining and deterioration.
The AT 45-645Z also has a 130ᵒC heat resistant outsole and also includes EH (Electrical Hazard) protection.
As the long recognised innovation leader in the category, Oliver Footwear is confident of market and wearer acceptance of the new AT 45 Non-Metallic Series.
Its pricing structure is highly competitive and includes a 30-day Comfort Guarantee that allows the wearer to return the boots within 30 days of purchase with receipt.
The comfort guarantee tag allows customers to claim a full refund or exchange for an alternative footwear choice.
Oliver Footwear
Ph: 03 53 200 200