Melbourne steel manufacturer collapses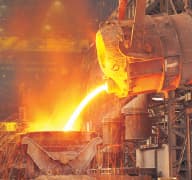 A Melbourne-based steel company turning over between $40-50 million has been placed in administration – another victim of the strong Australian dollar.
Rebar Prefab, a Melbourne-based manufacturer of steel-based concrete reinforcing materials, is now up for sale.
The collapse follows a number of insolvencies in the steel manufacturing business in the past year.
Smart Company reports administrators Richard Albarran, David Ross and Shannon Thomson of Hall Chadwick placed the company in receivership on April 9.
Rebar Prefab turns over between $40 and $50 million every year.
Administrators say the company has a "blue chip customer base" and specialist plant & equipment.
The manufacturing industry has been under severe pressure, due largely to the continued strength of the Australian dollar against international currencies.
The steel market in particular, is feeling the full brunt.
Earlier this year two separate companies, Spillane Fabrications and Capital Steel Buildings were both placed in administration.
And in October last year, engineering group RPG Australia also entered administration.
Economists are not predicting any relief for manufacturers in the short term.
Many experts warn the dollar will stay above parity for a while, with many governments in both Europe and the United States favouring low interest rates.