Published 24-02-2020
| Article appears in February 2020 Issue
MELBOURNE HOSTS FIRST AUSTRALIAN PLANT OF THE FUTURE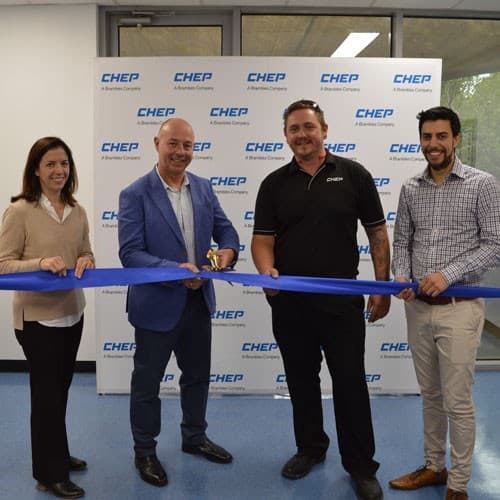 Cutting the ribbon are Lynn Johnson (Senior Manager Process Engineering APAC), Geoff Boshell (Senior Director, Supply Chain APAC), Shayne Bennett (Derrimut Service Centre Manager) and Jake Weragoda (Senior Manager, Technical and Strategic Operations)
CHEP Australia has unveiled its "Plant of the Future" concept with the opening of its newly upgraded Derrimut Service Centre, one of four Australian service centres to be upgraded as part of a global plant automation strategy.
Speaking at the opening, Phillip Austin, President, CHEP Asia Pacific, said: "This is the first site of its kind for our region, and I am proud of the work our team has done to bring this together. This not only creates more local jobs, we're also ready to further support the growing needs of our customers sustainably with more capability and greater efficiency.
"As the industry gears up to meet the Australian Government's 2025 Sustainable Packaging Targets, customers are increasingly looking to make their supply chains more sustainable and more resilient.
"The first 'plant of the future' site, Derrimut allow growers, producers and food manufacturers within the region to deliver life's essentials more sustainably," Austin concluded.
Pallet equipment has been added to the multi-platform site, which now includes timber pallets, plastic pallets, bins, containers, crates and automotive platforms. The new pallet equipment has the capability to condition up to 3 million pallets per year and was built locally in Bendigo, Victoria.
Geoff Boshell, Senior Director Supply Chain, CHEP Asia Pacific, said: "Benefits of a multi-platform site, include it's a one-stop-shop for CHEP customers. We have also expanded the size of our site to house more platforms onsite, ready for when our customers need it."
The 24,000m2 facility includes renewable energy technologies, including solar, which has already saved 220 tonnes of carbon emissions. There is also a new automated bin washer and an upgraded crate washer, both using 100% recycled water.
All CHEP sites achieved zero product waste targets for timber and plastics in FY19, showcasing best practice product stewardship as part of the company's circular, share and reuse model.