MELBOURNE BREWER MAKES PACKAGING A PRIORITY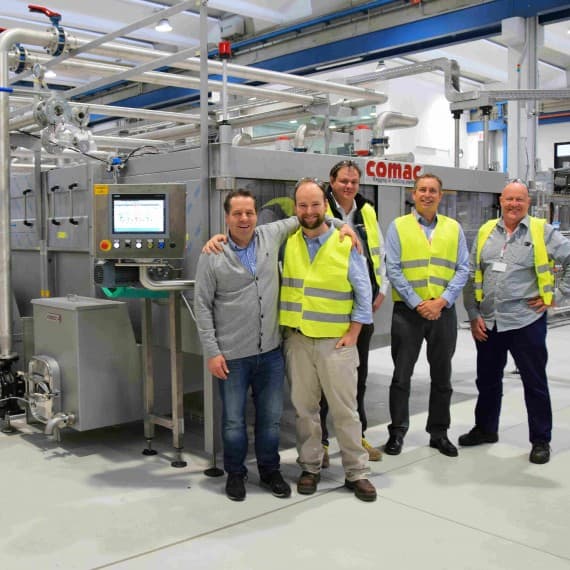 All smiles at the hand-over: Fabio Donadoni (Comac), Jon Seltin (Brick Lane), Alex Hornsby (Comac), Matt Macfarlane (HBM) and Nick Crosbie (Brick Lane)
The Brick Lane Brewing Co has signed up CoMac as the primary packaging equipment supplier for its new state-of-the-art brewery in Melbourne. CoMac is represented in Oceania by HBM Packaging Technologies.
Brick Lane Brewing was established in 2017 by a group of friends, including industry luminaries, sporting personalities and business people, who chose a green-field site in Dandenong South as the location for its purpose-built, world class brewing facility. Construction on the site commenced in late 2017 with installation of the bottling and canning line commencing in June 2018.
According to Brick Lane Head Brewer, Jon Seltin, the company wanted a vendor that could deliver world-class packaged beer quality, format flexibility, exceptional overall equipment effectiveness and best-in-class process design and engineering.
Prior to sign-off the team at Brick Lane Brewing met with CoMac's owners Marco Scudeletti and Fabio Donadoni to finalise the specifications of the line. Brick Lane was impressed with the meetings and especially the knowledge and passion that CoMac brought to the negotiations.
The new brewery will consist of a 50HL Braukon brewhouse, ProLeit process control system, CoMac bottle and keg filling machines, and third party equipment all integrated into the CoMac packaging line.
After successful equipment factory acceptance testing at CoMac's Bergamo headquarters, Seltin remarked that he was very impressed by the CoMac team, including HBM as CoMac's representative in Oceania.
CoMac has more than 120 installations across the US craft brewing scene and is a preferred supplier to Heineken Group globally.
HBM Plastics & Packaging Technologies
02 8814 3100
www.hbm.com.au