MEGA FARM RESCUE RECEIVES MANY HELPING HANDS AND TOOLS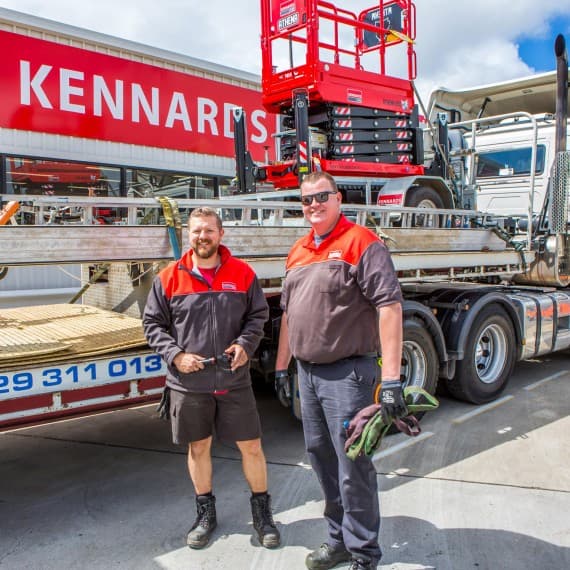 Craig McMahon gets ready for the Mega Farm Rescue
Kennards Hire is certainly "doing its bit" to help Australia's drought stricken farmers and their families. The work began with the Kennards branch network throwing itself behind the Buy a Bale initiative, and is now continuing with a key role in the Mega Farm Rescue.
Kennards Hire team members raised more than $12,500 for the Buy a Bale cause by during August, and the equipment hire company matched this figure, bringing the total donation to $25,000.
Then the company heard about the Mega Farm Rescue.
The Mega Farm Rescue event is on until 20th October in and around the town of Forbes in New South Wales. It aims to bring not only help and equipment to the farming families, but to inject some much-needed funds into the rural township and to lift the spirits of the drought-affected community.
The 180+ volunteers, helpers and supporters will be accommodated locally and catered for at the showgrounds, bringing many helping hands to the town where much equipment is required. This is where the Kennards Hire team comes in.
Kennards Hire's Zone Manager for Central Western NSW, Craig McMahon, is coordinating the in-kind supply of tipper, pantek trucks and utes for deliveries, cherry pickers, bobcats, post hole diggers, flood-lights, along with countless ladders, trestles, nail guns, saws, welders and safety gear to put the right tools into all the helping hands.
"One of our core values is One Family. While we may not be related to each other, we stick together and look after our team like family. This belief quite often spreads out into our local communities," says Craig McMahon.
"It's in the tough times that we need to stick together, and when so many volunteers are coming to help out it is a task in itself to ensure there is enough equipment to get the job done. We've got what it takes to make this happen."
"Our teams, and their families, live and work in the communities where we have branches, and many of those are in regional and rural Australia. Apart from pitching in with equipment and help on the ground, we also just want to raise awareness of the devastating long-term effects of drought and encourage even more people to get behind this initiative," adds McMahon.