Mega Bench for tough jobs
31-08-2010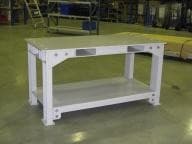 Safe and sound … the WERKS Mega Bench
If you're seeking a robust, safe workbench that suits your workplace requirements – then look no further.
The WERKS Mega Bench from Backsafe Australia has been designed and engineered in Australia to cope with heavy industrial and commercial applications.
The Mega Bench has an extraordinary high capacity of 6000kg, to suit the most demanding applications.
The Mega Bench is ideal for mining, defence, engineering, workshops, hospitality, hospitals and Health Departments, Food Manufacturing, Retail, Warehousing and Distribution Centres, Universities and Colleges.  
Backsafe Australia has a large range of configuration options enabling you to design, mix and match or add to your own system for the ultimate storage solution.
Backsafe Australia
Ph: 1300 305 314