MEET ROBERT MEROLA: THE MAN WHO DRIVES SEW-EURODRIVE
17-06-2016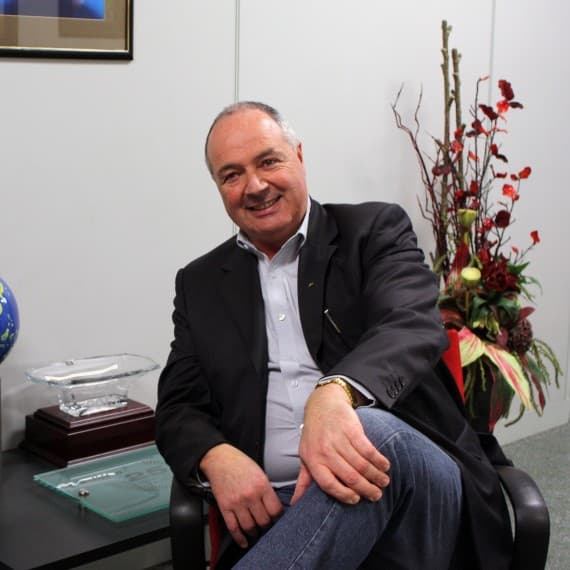 Robert Merola … meticulous planning Super efficiency … SEW's Super Premium Efficient MOVIGEAR® drive system
If you fail to plan, you plan to fail.
That's one of the many sayings that Robert Merola lives by.
The dynamic head of SEW-Eurodrive says meticulous planning is one of his company's great strengths.
"We plan everything well – it just doesn't happen," he says.
"SEW has foresight – it is not short-sighted – we always plan well ahead.
"Being a German company we are very methodical – we make sure we tick all the boxes before we hit the green button."
And when it comes to motors and drives SEW-EURODRIVE is a world leader.
The company is a global designer, developer and manufacturer of mechanical power transmission systems and motor control electronics.
Headquartered in Bruchsal, Germany its broad spectrum of integrated solutions includes geared motors and gear units, high torque industrial gear units, high-efficiency motors, electronic frequency inverters and servo drive systems, decentralised drive systems, plus complete engineered solutions and after-sales technical support/training.
The Australian division of SEW-EURODRIVE is headquartered in Melbourne and is supported by a network of offices in Sydney, Brisbane, Townsville, Adelaide and Perth.
Robert Merola has been with the business in Australia for almost 33 years and at the helm for nearly 30 years.
Under his careful watch, the company continues to grow from strength to strength.
And the Australian business is now entering an exciting new phase in its progression.
In March next year the company will open the doors to a new $3 million service facility at Mackay in north Queensland.
The 2000sqm facility will support existing and new resource sectors in the area.
"The region has a seriously large population of drives, particularly in the Bowen Basin which has a large coal seam," says Mr Merola.
"There is also a major sugar industry which we have successfully serviced over many years as well as a support harbour and shipping ports.
"Many of the drives we have supplied throughout the region are now reaching a stage where they require some serious servicing or possible replacement.
"With this new facility SEW will be in a unique position to service any brand requiring upkeep and offer support in new complete engineered drive solutions if required."
And closer to home at its Melbourne headquarters at Tullamarine, SEW-EURODRIVE later this year will unveil a state-of-the-art AGV (automatic guided vehicle) system to further streamline its warehouse operations.
The company identified a need for a new materials handling solution to help move goods around its 10,000 sqm Heavy Industrial Solutions facility.
This major upgrade further aligns with the company's forward thinking approach to its operations. The AGV system, currently in construction, will be powered by a SEW hybrid power system consisting of MOVITRANS® contactless energy transfer and super capacitors technology. The internal conveyor system will be driven by the company's Super Premium Efficient IE4 mechatronic drive system, MOVIGEAR®.
"AGVs are nothing new for SEW globally, but this is certainly an exciting new frontier for Australia," says Mr Merola.
SEW-EURODRIVE AGVs can be found at many of the world's leading auto manufacturers including BMW, Audi, Range Rover and Jaguar.
In Australia, the company has recruited a high skilled former SEW Singapore engineer to help develop the new system.
"We sent him to Germany for a year for training to the highest possible level to cater for this market segment," Mr Merola says.
"Most of the internal conveyor systems have been manufactured and positioned and now we are waiting for the delivery of the vehicles, which we expect will be in the 4th quarter of the year.
"The new system will also be set up as an in-house display for potential customers who will be invited to visit and to discuss their needs.
"We can then work with them to develop solutions to their factory automation needs."
Mr Merola says the new AGV system will create a safer workplace, significantly reducing the number of forklift movements.
SEW is also working with a leading Victorian university with a view to setting up a 3D virtual factory tour to showcase the new system and explain how it can improve productivity.
"It's really futuristic," Mr Merola says proudly.
He is equally proud of SEW-EURODRIVE's strong focus on energy efficiency to assist clients in reducing power consumption.
"Energy efficiency is a global hot topic and industry has an important role to play here, as it accounts for a major share of consumed energy," he says.
"It is also for our own benefit that we as a company are driving the development of energy-saving solutions with our energy efficient products such as the company's Super Premium Efficient IE4 mechatronic drive system, MOVIGEAR® and the new Premium Efficient IE3 DRN motor."
These products are at the top end of the scale when it comes to price, Mr Merola admits, however given their efficiency the cost savings are significant.
"The benefits are proven and many major global companies have reaped the rewards," Mr Merola says.
In most cases cost savings of between 45%-75% can be achieved.
Does Mr Merola have a long-term goal for SEW-EURODRIVE Australia?
"Ever since I joined the company in 1983 my goal has always been to provide Australian industry with the world's best drive solutions and that goal has never changed," he says.
"We still have a lot to do and we still have a lot to offer Australia.
"Our investment will certainly continue to drive value for our customers.
"My utmost goal is to have SEW at the forefront of all things automation.
"We aim to be the 'go to' company when people think of drives.
"Once a customer has had a taste of our service and value proposition we hope they remain a life-long partner – that is my goal."
SEW-EURODRIVE
Ph: 1300 739 287
www.sew-eurodrive.com.au
BREAKOUT QUOTE:
"My utmost goal is to have SEW at the
forefront of all things automation'
- Robert Merola