Meet the new members of the Cigweld family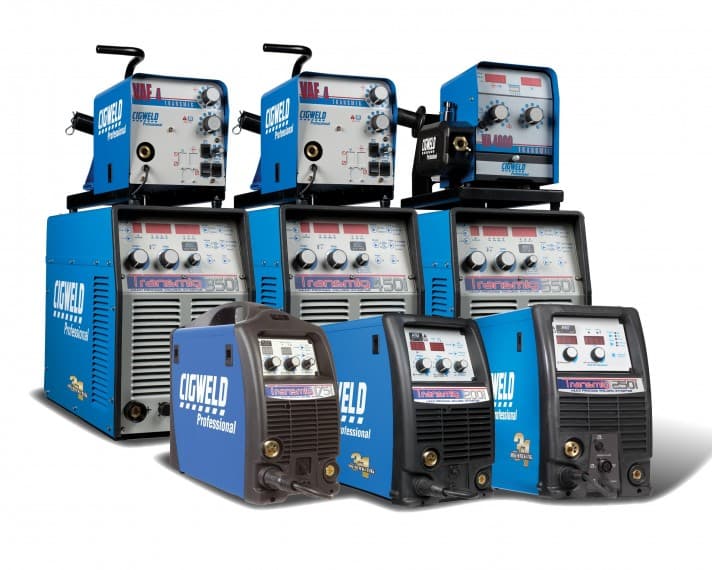 Excellent performance … the new Cigweld Transmig inverter range


Cigweld has released a complete family of six Transmig 3-in-1 MIG, Stick and TIG welding inverters, ranging from 175 amps up to 550 amps.

Late last year the Transmig 200i and Transmig 250i single phase portable Multi-Process Inverters with power factor correction (PFC) hit the market and created quite a stir.

Now Cigweld has released the 3 phase versions to complete the Transmig inverter range.
The Transmig Series 3-in-1 multi process welding systems are setting a new standard in portable welding equipment.
Transmig delivers 3-in-1 MIG, Stick and TIG capability from one integrated system.
The Transmig single-phase inverters (175i, 200i and 250i) are lightweight units weighing in under 30kg.
These inverters are packed full of functionality and safety features such as integrated wirefeeders, adjustable burnback control and VRD, making them suitable for the serious tradesperson/fabricator who is looking for the total welding package and value for money. All three machines are portable power houses able to deliver high output and high duty cycle for the serious hobbyist wanting to complete a home project right through to the boiler maker wanting to complete light industrial welding in a workshop or out and about on site. The 200i and 250i can save you nearly 50 per cent on your annual power costs over other conventional based machines due to Power Factor Correction, a widely recognised method of reducing the electrical power consumption of inverter power supplies and allowing maximum performance to be achieved for a given input.
The Cigweld Transmig 350i, 450i and 550i are three phase multi process welding inverters that meet workshop and site standards.
They are AS 60974.1 and AS 1674 compliant and are equipped with an integrated voltage reduction device (VRD), an electrical safety device that protects the user against electric shock by reducing the open circuit voltage when not welding.
Fitted with digital voltage and amperage meters, fan on demand, 10 welding setup programs, fault indicators, and a host of other advanced features, the Transmig 3 Phase Inverters will fully satisfy the broad operating needs of the modern welding professional requiring welding amperage between 40-550 Amps.
The Transmig Inverter range provides excellent welding performance across a broad range of applications.
All units come with a plant option, which includes a Tweco MIG gun, feed rolls, electrode holder leads, clamp leads and Professional Argon regulator/flowmeter. Optional extras include wire feed units, trolleys and roll cages.

Cigweld Thermadyne
Ph: 03 9474 7400
www.thermadyne.com.au