Meet Demag's new CEO, Joerg Stojan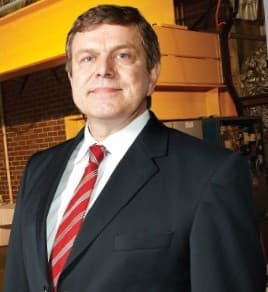 New CEO Joerg Stojan joins Demag Australia from Germany having worked for companies like KHD, Lurgi and SMS Demag.

Mr Stojan is an experienced engineer and manager with a strong customer service background. He is well-suited to lead the company in the next phase of its development. In this interview with Industry Update, Mr Stojan reveals his major challenges and his future vision for the company …

What do you see as the major challenges in your new role?
The major challenge facing us is to increase our market share in the mining industry. This is the one issue we really have to focus on. Australia has become a 'two-speed' economy and traditionally we have been servicing industries like automotive industry, metallurgical industry and the machinery production industry. We started focusing on the mining industry a few years ago and this has become probably our biggest challenge. We are thinking about how to come closer to major mining centres. With our new owner Terex there will also be a stronger focus on health and safety. I personally believe this is a very important issue.


Will there be many changes coming as a result of the takeover from Terex?
Not really. It will make us stronger because we now have more people here in Australia. We will now have a much better network and the product range is hard to beat.


Can we expect any major policy changes under your leadership?
I cannot say at this stage. I have to study the situation before I can answer that question. At this stage I don't envisage any major changes. We will see.


You have studied the company's history in Australia. What do you see as the major highlights in the past 50 years?
Demag has always been renowned for its quality and technology. We have top class products and this has been our biggest highlight.


What sets Demag apart from its competitors? What is your main point of difference?
Technology and quality. We have the knowhow. We are a company that not only sells products, but also solutions. We offer a standard range and a tailor-fit range to try to find the best solution for our clients. Many of our competitors only sell standard lines.


Demag has been renowned for its outstanding quality and after sales service. Is this the key to the company's success?
Absolutely. Our products are designed to have a very long life. With all products there will always be ware and tear, so service is very important. So we will continue to place great emphasis on these two areas.


Demag also places great emphasis on training. Will this continue to be a priority?
Absolutely. We will continue to improve our training standards. We currently provide external training where customers can attend courses to learn more about our machines. And we also provide internal training for our staff, where experts from Germany will present new technology. We put great emphasis on training so that our staff remain at the forefront.


How do lifting standards in Australia compare with other advanced nations?
There is no big difference. We have a number of international clients. We deliver to companies like Toyota and Rio Tinto, which comply to the strictest world safety standards.


Finally, what are your future goals for Demag in Australia?
Growing our mining business. That is where the focus will be. But at the same time we will be keeping our traditional clients happy.