MEEKE ENGINEERING EXPANSION BRINGS ALL ENGINEERING SERVICES UNDER ONE ROOF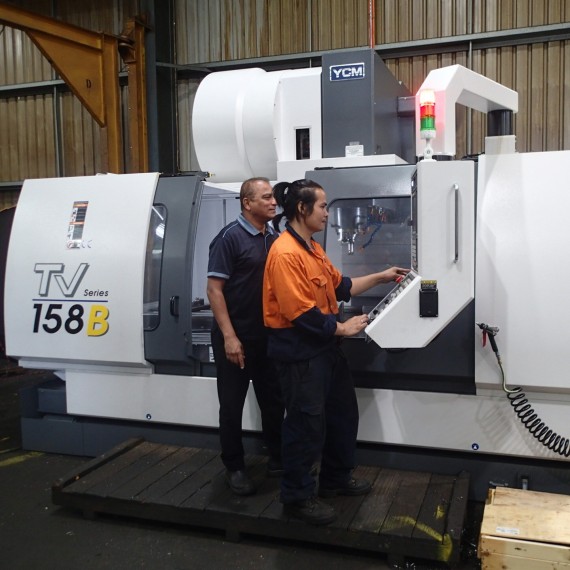 Meeke Engineering General Manager Satish Sawant and workshop Forman Derrick Vuong
In 1989, the two founders of a Sydney company – Ivan Meeke, now retired, and Joe Di Giulio, the present Managing Director – saw that the industrial sector had a shortage of good-quality engineering workshops.
With the ambition of growing quickly to meet the needs of a vibrant marketplace, the partners launched Meeke Engineering.
According to General Manager, Satish Sawant: "In the 1980s, there was a need for a high-class jobbing workshop, and that was what we were set up to provide."
"Today, our customers at home and abroad need much more. We provide the diversity they need – machining, fabrication, assembly, testing, and painting – all at the same location."
Sawant, who has a degree in production engineering, continues: "Our Wetherill Park workshops in Sydney's industrial heartland provide a lot more than just production capacity. "
"Senior staff members frequently interact with customers to devise knowledge-based solutions to specific problems, often going on to design and engineer a prototype – even before the chips start to fly."
He explains that the company regularly provides hydraulic cylinders and refurbishing, complex welding jobs, specialised CNC machining, and quick turnarounds when required.
Typical challenges include centre barrels and impellers for the mining industry, gearbox cases for the gear industry, moulds for the rubber mould industry, rollers for the conveyor industry, and hydraulic cylinders for the earthmoving industry.
"In our workshops, we have the expertise and experience to produce everything from a batch of tiny components to a complete system that has been designed, manufactured, assembled, and tested under an ISO 9001:2015 accredited QA regime," says Sawant.
Customer expectations
Meeke Engineering has grown in line with the needs of its customers, and the management team has identified three trends that, together, will drive further growth during the next decade: greater accuracy, shorter delivery times, and reasonable prices.
In part, this is why the company's existing production capability and capacity has now been complemented by a CNC vertical machining centre (VMC) – a brand-new YCM TV 158B – which has a unique feature.
The patented T-base structural design is one of the many innovations developed by YCM. Its overhang-free table movement is fashioned from sturdy Meehanite cast iron to ensure dynamic levelling accuracy, machining rigidity, and long-term durability.
The long travel of the x-axis is on the top of the base, where the saddle moves along the full stroke; the cross y-axis saddle supports the worktable.
The T-base rigid structure has full stroke support, and does not have overhang problems, thereby guaranteeing dynamic levelling accuracy.
The design also offers a small machine footprint, and the TV series of VMCs has the most efficient chip disposal system in its class.
Meeting the future
Meeke Engineering sees CNC as being very important, considering the continuing shortage of skills in conventional machining, highlighting the key role played by CNC in guaranteeing the consistent quality and accuracy of jobs.
According to Satish Sawant: "We have found that the latest controls are fairly easy to understand and operate and, together with on the job training, they have helped us overcome the skills shortage, increase our precision, and expand our daily throughput."
Throughout Australia, YCM machine tools are sold, serviced, and supported by Sydney-based 600 Machine Tools, a member of the global machinery manufacturer and distributor, 600 Group, which was founded during Queen Victoria's reign.
Asia-Pacific Managing Director, Cliff Purser, comments: "I am not in the least surprised that such a technology-driven manufacturer as Meeke Engineering, has chosen to extend its capacity and capability with a VMC designed and manufactured by YCM."
"An ISO-9001 accredited manufacturer, YCM was founded in 1954 and has built a worldwide reputation for technological innovation. Its latest model – a 'smart' multi-tasking mill/tum machining centre – won the Supreme Excellence Award of the Taiwan Machine Tools Industry 2017."
He adds: "The TV 158B is a popular choice for workshops in Australia, because its standard gearhead spindle provides up to 6000 rpm speed with 48kg-m (347.19 lb-ft) torque.
"The 10,000 rpm spindle is deployed with IDD spindle design and oil-air lubrication to reduce the deformation caused by heat, ensure the accuracy, and extend the life of the spindle," adds Purser.
Not just for control freaks
Sales Manager of 600 Machine Tools, Steve Drummond, says: "In recent years, we have supplied several machine tools to Meeke Engineering, including two from YCM."
"The third YCM machine we have configured for Mr Sawant and his team is a 'best in class' VMC that is capable of producing complex components at high speed."
"However, despite the sophistication of the TV 158B, the latest Fanuc MXP200FB control ensures that operators can approach this machine with confidence, due to its ease of use and simplicity of operation."
With regard to manual operation, he adds: "Even if you haven't used a milling machine since your schooldays, you could walk up to a YCM machining centre now and start cutting metal."
600 Machine Tools
02 9674 4738
www.600machinetools.com.au