MEASUREMENT ARM ENABLES REVERSE ENGINEERING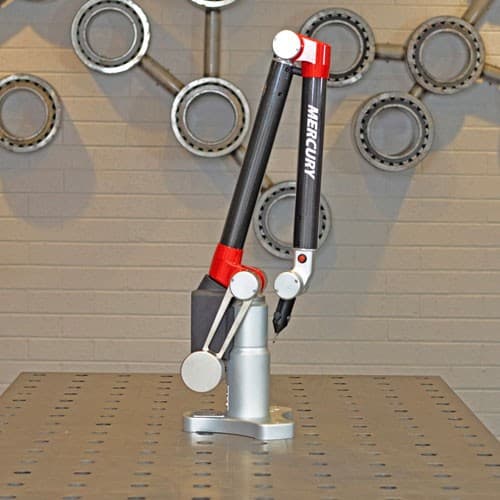 Available now from Leussink Engineering, the European-made Tomelleri Mercury is a 1.8-metre 6-axis measurement arm is billed as the most accurate metrology arm currently on the market for measuring volume.
The unit senses discrete points on the surface of the measurement object with a probe. The dimensions are immediately digitised and transferred to a CAD system, where surfaces are developed and drawings are finalised.
According to Leussink Sales Manager, Chris Walton, "At Leussink we know that one of the most important aspects of any type of engineering work is measurement accuracy. This applies to not only in the general manufacturing field but also in more specialist areas such as mining and defence, where accuracy in qualifying parts is paramount."
The new Mercury model features a novel counterbalance system that makes the arm ergonomic and easy to use. The counterbalance system also means that a user doesn't need to affix the arm to a table surface – just place it on a sturdy tabletop or solid interface like a steel or aluminium base with three support points and its ready for use.
Interestingly for the Australian climate, the Mercury is thermally compensated, and so it can maintain its high degree of accuracy regardless of ambient temperature changes throughout the day.
Available in both 1.3 and 1.8m models, the Tomelleri Mercury measurement arm works with leading software platforms such as Aberlink and the Geomagic suite of software.
"The ability to reverse engineer a part or component is particularly applicable where there are machines that can run 24/7 for months on end, repeating the same process over and over again," says Chris Walton.
"Given the potential life span of some machinery, by the time a new major part is required, it may no longer be in production, or it may be too expensive to replace.
"This process was not possible a few decades ago, but with technological advancements like the Tomelleri range of mobile measurement arms, coupled with industry-leading software, it has become feasible and more economical to reverse engineer components that form part of an expensive plant or equipment."
Leussink Engineering
02 4260 7777
www.leussink.com.au