MaxiTRANS Parts launches online tyre store
31-08-2010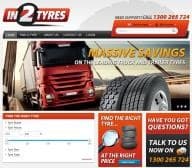 Leading truck and trailer parts supplier, MaxiTRANS Parts has launched a new online tyre store offering a comprehensive range of high quality and high performance truck and trailer tyres.
In2Tyres (
www.in2tyres.com.au
) provides the road transport industry with a time saving and competitive way to meet its tyre demands. 
MaxiTRANS Parts General Manager, Peter Loimaranta, predicted that the new site could change the landscape of the tyre industry. 
"In2Tyres breaks the mould of the traditional tyre retail models in Australia, Mr Loimaranta said.
"By also utilising a low cost online retail model, we are able to pass considerable cost savings on to the end user."
Customers of MaxiTRANS Parts (incorporating Colrain and Queensland Diesel Spares) can order online with the option of either delivery to a nominated address or collection from the many Colrain and Queensland Diesel Spares branches throughout Australia.
In2Tyres
Ph: 03 9368 7023