MaxiTRANS expands its resources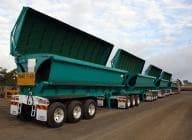 Innovation and quality … the Flex Tipper Road Train from AZMEB Global Trailers
Leading road transport equipment manufacturer, MaxiTRANS, has announced the acquisition of AZMEB Global Trailers as part of a strategy to further expand its participation in the mining and resources sector.
AZMEB has a strong reputation as one of Australia's most innovative designers and manufacturers of side tippers for both the resource and waste management sectors. 
"The AZMEB acquisition strengthens our position as a leading manufacturer of tippers and AZMEB and its customers will benefit from further investment, broadened distribution and national customer support," said Michael Brockhoff, Managing Director of MaxiTRANS.
MaxiTRANS will retain the existing AZMEB manufacturing facility at Bundaberg, QLD and its current employees. 
"Importantly, the existing AZMEB management team is remaining with the business and is committed to continuing to provide high levels of customer service, innovation and quality," said Mr Brockhoff. 
"It is also particularly pleasing to advise that the current owner, Bernd Ostermeyer, has agreed to stay on for a period of time to assist with the integration of AZMEB into the MaxiTRANS Group".
Looking forward, MaxiTRANS sees this as a key strategic move to build on its existing participation in the resources sector, while expanding AZMEB's distribution across Australia.
MaxiTRANS is Australia's largest manufacturer of trailing transport equipment, with class leading brands such as Lusty EMS and Hamelex White tippers, Freighter semi-trailers and Maxi-CUBE and Peki reefers. 
MaxiTRANS is also a major player in road transport parts through its Colrain and QDS divisions. 
MaxiTRANS Australia Pty Ltd
Ph: 03 8368 1177