Maxi-CUBE gives The Block a big lift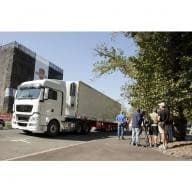 Leading van brand, Maxi-CUBE, made a cameo appearance on Channel Nine's reality TV series, The Block Sky High. 
In a recent episode, a Maxi-CUBE van provided the perfect vehicle for two former contestants who drove billy carts out of van to issue a challenge to Sky High contestants.
The two former contestants, Mike and Andrew, appeared in last year's series, in which their South Melbourne terrace was sold for more than $1.4 million.
The pair pocketed $434,000 in prize money and returned to the show in spectacular style as they drove their two billy carts down a ramp out the back doors of the stationary Maxi-CUBE. 
They issued a challenge to the current crop of contestants – to build and race a billy cart.
An audience of 1.191 million viewers tuned in to watch the episode.
Maxi-CUBE is no stranger to the screen, with the brand also appearing in the 2011 Hollywood film Killer Elite, starring Jason Statham, Clive Owen and Robert De Niro.
In the movie, a 1970s model Maxi-CUBE was used in a high octane action sequence shot partly on Melbourne roads.
Maxi-CUBE is Australia's largest supplier of dry freight and temperature controlled trailers. 
For 35 years it has been a leader in the development of this type of transport equipment. The Maxi-CUBE range includes temperature controlled (refrigerated) and dry freight vans for the carriage of a wide range of goods ranging from furniture through to groceries, frozen foods, meat, dairy products and fruit and vegetables.
MaxiTRANS Australia Pty Ltd
Ph: 03 8368 1117