Maxbor bonus promotion ending soon
31-08-2010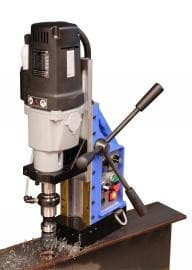 The Maxbor Real Action Hero promotion runs until the end of September – so don't miss out.
Customers can take advantage of bonus offers on the entire range of Maxbor Magnetic Based Drills and Annular Cutters.
The Maxbor range consists of 12 models with the Signature Series of Industrial Duty Drills – all manufactured in England. 
The premium Maxbor HSS Annular Cutter range, with its unique black finish are also manufactured in England.
Maxbor is a class leader with premium quality products to suit all industries, from light fabrication to heavy manufacturing and mining applications.
The Maxbor range of drills covers all applications from HSS and TCT annular cutting up to 100mm, jobber drilling and tapping applications.
Maxbor HSS Annular cutters are a premium product made in Sheffield England. 
Unique cutting geometry and a special tempered finish gives superior performance and longer cutting life. 
A new range of TCT annular cutters is also now available for drilling stainless and hi-tensile steel.
Also available is a unique range of Broach Step Drills, for drilling and opening up or aligning existing holes. This is the only product that effectively achieves this with minimum fuss.  Ideal for on-site fabrication, rail and marine industries, they are available in a range of sizes for holes from 8mm to 48mm.
Premium features found across the entire Maxbor drill range include brass dovetail slides for precision drilling and long service life, quality balanced motors and gearboxes for smooth vibration free running with low noise levels.
The Maxbor range of magnetic based drilling machines are part of the widely recognised Alpha product range exclusively distributed in Australia by Sheffield Blades.  
Sheffield Blades is a long established distributor of the Sterling range of cutting tools and the Alpha range of power tool accessories.
Visit
www.maxbor.com.au
for details on the Maxbor range of drills, cutters and accessories and for details on the Real Action Hero promotion.
Call the Sheffield Blades sales team to find your local distributor and order a copy of the Maxbor 2012 catalogue.
Sheffield Blades
Ph: 1800 656 911