MATCHING THE MAGNET TO THE LOAD – A CAUTIONARY TALE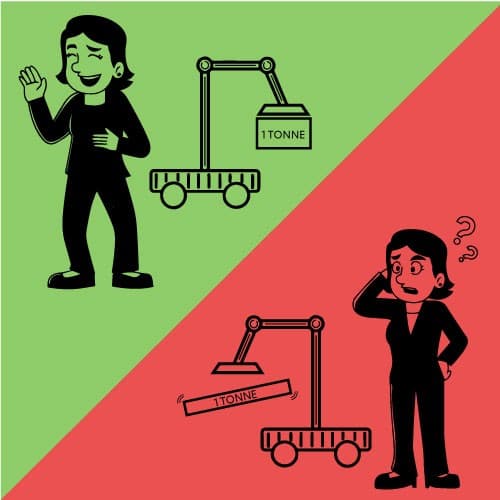 "But the magnet is rated for one tonne," began the foreman, "and that plate is only 900 kilos."
Patiently the magnet salesman tried to explain, "yes, but not all 'one tonnes' are the same."
"How can one tonne not be one tonne?" The foreman was becoming exasperated.
"I didn't say a tonne isn't a tonne; I said not all one tonnes are the same!"
"Please explain!"
"OK: let me explain with an exaggeration. Suppose you have one tonne of steel in the form of a sheet 14 metres long by 3 metres wide and 3 millimetres thick. Do you suppose your one tonne magnet would lift it?" asked the intrepid salesman.
"Well…no; wouldn't it droop too much and peel off the magnet?"
"Ah" sighed Magnet-Man, "now you're onto something. You see, it is one tonne - but it's not a safe one tonne!"
Back in the real world, Australian Standard AS4991-2004 Lifting Devices requires that "the range of shapes and mass of the load shall be taken into account when selecting a magnet…"
Lifting magnet load ratings are valid only for the manufacturer's specified steel thickness, profile (round, square etc), type of steel and load overhang or sag.
Don't take unnecessary risks with your lifting magnets. Check the specs and check the load.
Serpent & Dove's MaxX permanent magnetic lifters come with a detailed operating manual and also use patented 'neutral crown' technology, which concentrates magnetic field at the lifting surface.
Serpent & Dove - Applied Magnetics
02 99717577
www.serpent-dove.com