MATCHING IS CRITICAL FOR HYDRAULIC HOSES AND FITTINGS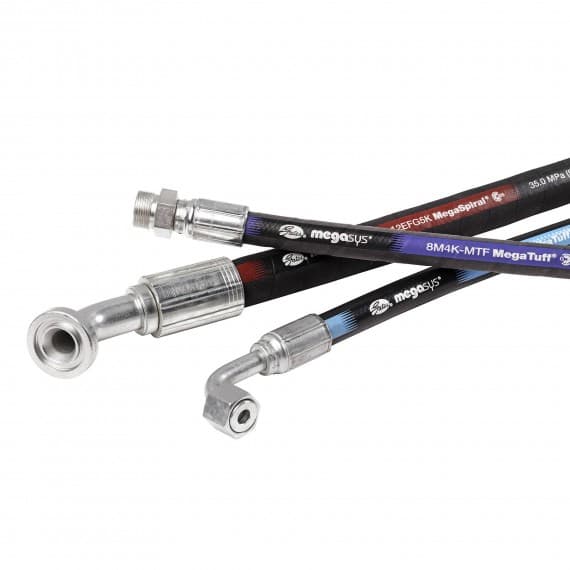 Gates Australia is endorsing the recommendations of the US Society of Automotive Engineers (SAE), which warns against using fittings from one manufacturer and hoses from a different manufacturer interchangeably.
Despite the fact that most American-made (and many other) hydraulic hoses are built to conform to SAE specifications, a wide range of materials can be used. As a result, different manufacturers use different materials and this can result in a variety of hose styles. Add to that all the possible thread end combinations worldwide, and the potential for confusion is high.
The solution proposed by Gates is to standardise on a single range of hoses and fittings – its own. And, as the company's hoses, fittings and crimpers are qualified as a system, there's no guessing about proper fabrication.
The Gates MegaSys product line includes nine constant-pressure hydraulic hoses claimed to have the smallest bend radius of any SAE-equivalent hose in the industry. The Gates spiral-wire and wire-braid hoses can be bent up to one-third the SAE specification.
MegaSys Spiral-Wire Constant Pressure hoses are available with the Gates abrasion-resistant MegaTuff and now XtraTuff covers. MegaSys is tested to one million impulse cycles with a temperature range of -40 to +121°C.
MegaSys hoses are compatible with the strongest Gates fittings, including the MegaCrimp one-piece high-pressure fitting, designed for one- and two-wire braid hoses, and the GlobalSpiral two-piece ultra-high-pressure fitting, designed for four- and six-spiral wire hoses up to 8000psi.
Gates Australia
03 9797 9688
www.gatesaustralia.com.au