Masterflo Filter Wall System is a master stroke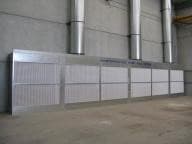 Breathe easy … Masterflo's Filter Wall System
When it comes to painting large components or structural steel it just isn't practical to use a spray booth.
That is why Masterfield designs has now developed the Designated Painting Area – to improve ventilation and maximize safety.
The Masterflo Filter Wall System is the perfect solution for ventilating large painting areas.
Using natural airflow and negative exhaust ventilation, the spray painting of bulky items can now be carried out safely and efficiently.
Masterflo Filter Wall Systems are proven to provide excellent single-directional airflow through the workarea and include all the features of a fully complying installation.
Designed and manufactured in Australia, the Masterflo Filter Wall System offers years of reliable service and low maintenance costs. 
A complete filter change for the installation (as shown) is under $500 and takes no longer than 45 minutes.
Running costs have also been minimized with the inclusion of direct-drive axial fans, which produce maximum performance with minimal efficiency losses. 
The system shown uses three 3.0kW electric motors and transfers over 20,000L of air every second.
The modular construction of the Masterflo Filter Wall System ensures there is no problem finding a design solution to suit any size facility.
Masterfield Industrial Equipment
Ph: 02 9647 1233