Published 25-01-2021
| Article appears in February 2021 Issue
MASTED STRETCH WRAPPERS AFFORDABLE OPTIONS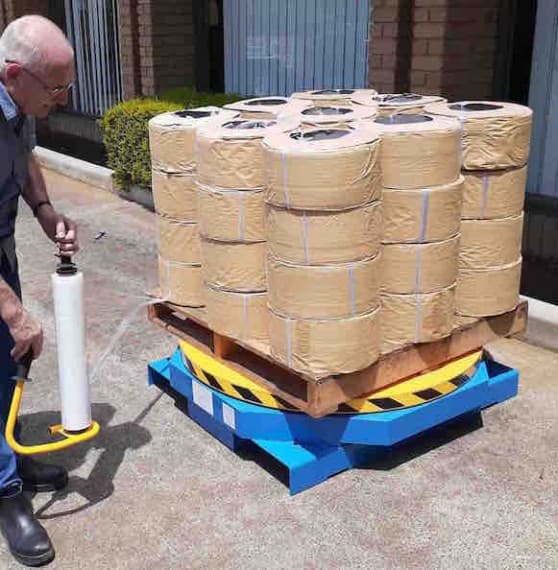 For many businesses, a masted Stretch Wrap Machine, masked hidden costs, that could be robbing you of hundreds, even thousands of dollars each year.
There are reasonable priced options for low volume and load height users
 
A masted stretch wrapper takes up 3.6 Mtrs square of warehouse real estate, costing anywhere between $600.00 to $850.00 per year.
It also takes up the same space as a double bay of racking, where 6 pallets could have been stored (more if your warehouse is higher), so the opportunity cost of losing 6 pallet spaces plus a few hundred dollars per year, mounts up.
 
Pack King Rapid Wrapper takes up only 1.5 Mtrs square when in use, then you have gained six pallet storage spaces.
 
The Rapid Wrapper can be moved using a hand pallet truck, so it can be taken close to the work station in order to minimize forklift travel distance, remembering that the less distance the forklift travels, the safer and more productive it is.
 
It may also be cheaper and safer to provide a walkie stacker in the packing area, in order to raise, lower and move pallets to a zone where the forklift can operate, thus separating workers from forklifts.
 
Optionally the Rapid Wrapper with a pallet on top, can serve as your direct loading and stretch wrapping work station in one.
 
You can even rotate the turntable for easier and faster stacking. This eliminates the need to move pallets twice.
 
Given the fact that most operators put two or three pallets down first in order to prevent bending, the Rapid Wrapper at a height of 286mm performs the same function.
 
The other benefit is that when stretch wrapping, the operator can start the film at a height to incorporate the bottom of the pallet.
The load can be further bound to the pallet by passing the film under the corners of the pallet during rotation, whereas a masted stretch wrapper starts the first film run at least half way up the pallet, so that any sudden stop by the carrier could push the load off the pallet.
At around half the price of a decent masted wrapper, the Rapid Wrapper offers low cost, versatility, space saving and full utilization of your existing expensive warehouse space.
When your floor space is required for other activities, the Rapid Wrapper has a notched base that allows it to be safely stowed on pallet racking, plus fully removable plugs so there are no trailing cables.
The 24v foot control allows the 1500mm diameter chequer plate turntable to rotate any load up to 2 tonnes at a comfortable 8 rpm (doing all the hard work), whilst the operator stands with the film dispenser, tensioning and overlapping the film as required. A top cover can be wrapped into the load for complete weather and dust protection if required,
 
PACK KING - www.packking.com.au