Published 01-04-2021
| Article appears in April 2021 Issue
Mask wearing for Qld and restrictions for NSW following Covid-19 outbreak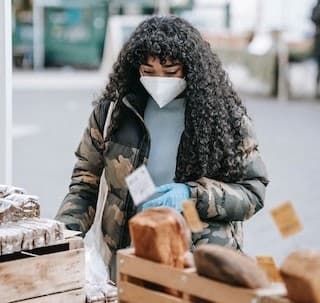 As community transmission of Covid-19 grows in and around Brisbane and Byron Bay, lockdowns have been introduced and mask wearing made mandatory.
All locally acquired cases have been linked to the Covid-19 ward at Princess Alexandra Hospital in Brisbane. One nurse passed the UK variant of the virus on to another, who then passed it on to a group of women who attended a party in Byron Bay. 
Queensland Health has reported a total of 19 cases of Covid-19 transmission in the past three weeks, up to and including March 31. Three of these cases were added in the latest 24-hour reporting period. 
Contact tracing is under way at several venues in Byron Bay and the Easter weekend's annual Bluesfest, which attracts about 15,000 people, has been cancelled. 
The local government areas of Brisbane, Logan, Ipswich and Redlands are in lockdown, and declared a hotspot, while restrictions are in place for the rest of Queensland. Queensland Premier Annastacia Palaszczuk is expected to make an announcement on 1 April as we head into the Easter break. 
Restrictions in Greater Brisbane include leaving home only for work reasons, health care needs, buying of essentials and / or to exercise in the local area. Shops and grocers will remain open, with mask-wearing stipulated for patrons and staff.
The wearing of masks is mandatory from leaving home, and while in indoor spaces such as shopping centres, supermarkets and public transport.
Restrictions are also in place for how many visitors are allowed in people's homes, what businesses can remain open, and for travelling within the state.
For more details go to Queensland Health – https://www.health.qld.gov.au
Meanwhile, NSW Premier Gladys Berejiklian has announced restrictions for Byron, Ballina, Tweed and Lismore in Northern NSW during the Easter break.
There is a limit of 30 people allowed to visit homes and a list of everyone attending must be maintained.
"Secondly, all venues in those four local government areas, will resort to the four square-metre rule and we ask for everybody to stay seated and not stand," elaborated Ms Berejiklian.
"We also ask for people in those four local government areas to wear a mask and we will make this mandatory in retail, if you are going shopping, in hospitality venues if you're a worker, on public transport ...."
"Make sure you wear masks until at least the end of Easter as a precaution to make sure that if there is any community transmission, we haven't got under control, that we maintain that," Ms Berejiklian said.
The restrictions in the two states were announced as new research by The University of Sydney and University of New South Wales, as well as the British National Health Service, revealed that the main source of tiny aerosols that spread the virus is people breathing, coughing and even talking.
University of Sydney Professor Euan Tovey - one of the authors of the study - said those bodily processes produced a lot more droplets and aerosols than when patients were given supplemental oxygen.
Experimenting with a special machine to measure the number and size of airborne particles during these natural bodily processes, reveal people "producing 300 times more particles than quiet breathing", Professor Tovey said. 
The team of researchers has strongly recommended that all healthcare workers on the frontline who are taking care of Covid-19 patients be instructed to wear N95 or P2 masks when exposed.
NSW Health Covid-19 restrictions for Northern NSW:  https://www.nsw.gov.au/covid-19/rules