MARSH MELLOWS MAKE LESS MESS FOR FOOD PROCESSORS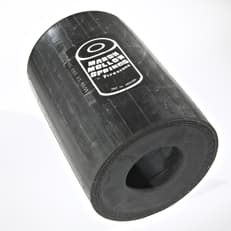 Air Springs Supply reckons it has a maintenance-free alternative to metal springs for use in food processing machinery. Firestone Marsh Mellow springs are made from rubber and fabric, and so do not need lubrication or other maintenance. This makes them ideal for replacing the original springs in equipment that requires frequent wash-downs, such as in food processing.
Because of their construction, the Marsh Mellow springs have excellent vibration isolating properties. What's more, this construction makes them virtually silent in operation (unlike traditional springs), helping processing plants in meeting WH&S noise requirements.
They also have more spring travel and can handle bigger loads than similarly sized metal coil springs. They also outperform similarly sized all-rubber springs, and so fewer units can be used for comparable tasks.
Marsh Mellow springs are cylindrical, and based on a solid rubber core with a hollow centre. This is covered by multiple plies of fabric-reinforced rubber. The plies give the springs stability and a consistent cylindrical shape.
The inherent flexibility of the Marsh Mellow helps eliminate downtime and potential damage to machinery. For example, if a metal coil spring breaks, it can easily shatter, and the resulting fragments can do further damage to the machine. In comparison, all Marsh Mellow springs have exceptionally high overload capabilities and usually do not fail catastrophically.
Air Springs Supply
02 9807 4077
www.airsprings.com.au