MARSH MELLOW TECHNOLOGY QUIETLY CURTAILS PRODUCTION ISSUES CAUSED BY SPRING SET
05-05-2017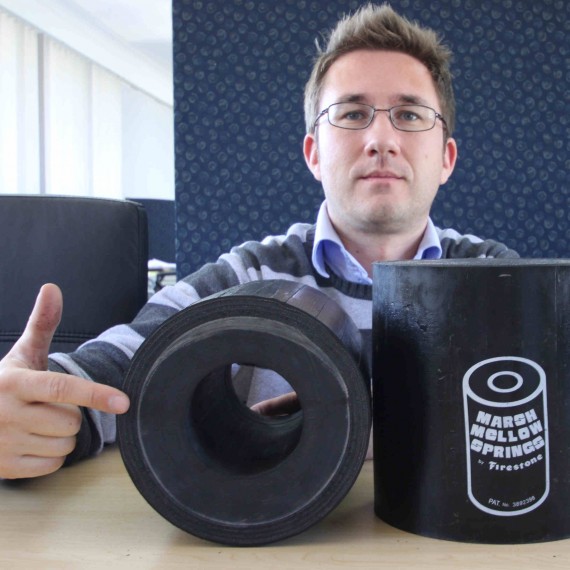 Operations and maintenance engineers are all too familiar with the problem of compression set in metal coil springs that support vibrating, crushing and screening equipment used in food processing and processing granular bulk and agricultural products.
Our experience shows that, as metal springs get tired, they can suffer permanent compression well below their original design height. This means they don't perform to their original specifications, making the vibrating equipment they support potentially unstable and prone to breakages, because spring set doesn't always happen evenly.
One side of a screen or crusher may become more worn than another, for example, affecting dynamic stability, imposing uneven loads and even leading to breakages and production interruptions as workers have to crawl through inaccessible potentially hazardous spaces to make repairs and install replacements.
One solution in numerous applications is through the use of proven rubber-and-fabric Marsh Mellow springs from Firestone, which are distributed and backed in Australia by the national resources of our market-leading pneumatic actuation and isolation company, Air Springs Supply.
One of Marsh Mellows' big advantages is that they suffer minimal compression set over the life of the part. This means they can be changed in and out of different sets of springs without upsetting the dynamic balance of the whole set.
Compact, tough and quiet in operation, cylindrical Marsh Mellow springs are constructed of a solid rubber core with a hollow centre and several plies of fabric-reinforced rubber as an outer cover. The plies provide the springs with stability as well as a consistent cylindrical shape.
These simple, ruggedly engineered products can't break, splinter or fragment like a metal spring. Marsh Mellows give consistent performance regardless of changing loads, while offering high lateral stability and compact size.
They operate silently (great for OH&S) with more spring travel and greater load capacities than conventional coil springs, while outperforming all-rubber alternatives in many areas, such as greater load capacity and more compact size for comparable tasks.
Marsh Mellow spring components (rubber, bias plies, size of centre) are combined in different ways to meet specific load and performance requirements (such as those of crushing and screening equipment). This gives them great flexibility and precision.
Additionally, Marsh Mellow springs exhibit exceptionally high overload characteristics and usually do not fail catastrophically, offering some support even during failure. Marsh Mellows have no moving parts. No maintenance or lubrication is required to maintain their performance. They have a high tolerance to washdown and other liquids used in production processes.
Naturally different types of springs have different performance characteristics suited to particular tasks. These should always be discussed with suppliers having wide experience in the particular area of application being considered.
James Maslin is National Sales and Marketing Manager for Air Springs Supply, Australian distributor of Firestone Industrial actuation and isolation products.
Air Springs Supply
02 8877 5500
www.airsprings.com.au