MARITIME COLLEGE STUDENTS JOB-READY FOR NAVAL SHIPBUILDING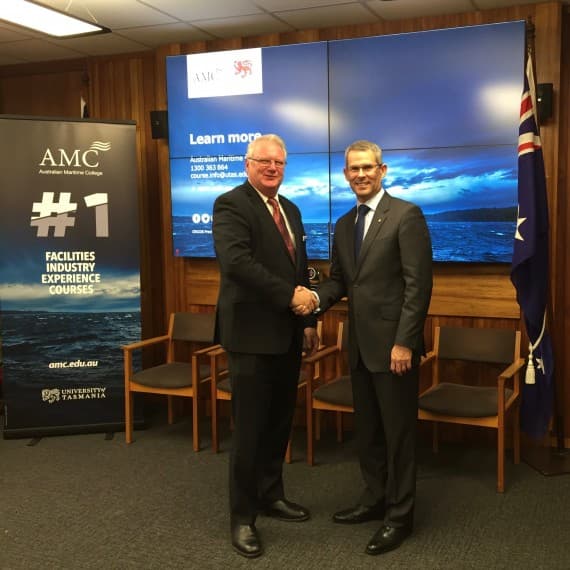 Bill Docalovich, Naval Shipbuilding College and Michael van Balen, Australian Maritime College
Launceston's Australian Maritime College has been endorsed as delivering courses aligned with the future employment needs of the naval shipbuilding industry, joining a network of prominent education and training providers across Australia.
The Naval Shipbuilding College has endorsed the college's Bachelor of Global Logistics and Maritime, Bachelor of Engineering with Honours in Naval Architecture and Marine and Offshore Engineering, Masters in Engineering (Maritime Design) and Masters in Business Administration (Maritime Logistics Management).
Naval Shipbuilding College Program Director Bill Docalovich says the unprecedented upgrade of the Royal Australian Navy's fleet is taking a national approach with investment in the skilled workforce of the future.
"There are opportunities throughout Australia to secure long and rewarding careers in areas of production and sustainment across the National Naval Shipbuilding Enterprise, and through this course endorsement process we're helping students to graduate job-ready," he says.
"Through collaboration with education and training providers we are strengthening student pathways into rewarding, long-term, sustainable shipbuilding careers in Tasmania and beyond.
"15,000 skilled and professional jobs will be created throughout the Enterprise. Shipbuilding, supply and sustainment businesses in Tasmania are delighted to see their highly skilled future workforce taking shape."
Australian Maritime College Principal Michael van Balen says his organisation is committed to the partnership with the Naval Shipbuilding College, providing its students with high-quality education and pathways into shipbuilding careers.
"The partnership will ensure our graduates are well positioned for the large number of job opportunities that are being created as a result of the growth in the shipbuilding industry," he says. "It demonstrates our responsiveness to the changing needs of the workforce in Australia."
The Australian Government established the Naval Shipbuilding College in 2018 to help secure a sovereign workforce to implement its $90 billion continuous naval shipbuilding program.
A national naval shipbuilding workforce register has been established for students or workers interested in working on some of the world's most technologically advanced projects. This means no matter where candidates are located in Australia, the college provides a connection to endorsed higher education providers, registered training organisations or employers.